Farmers Need Bigger Plots of Land or to Diversify Production to Cope with Development, Agriculture Minister Says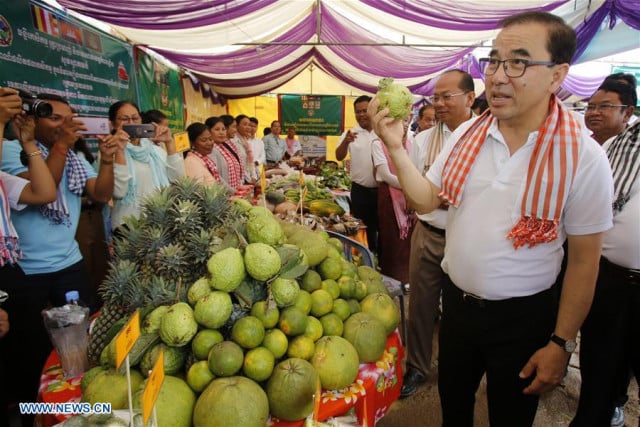 They need at least five hectares of land or must add products to deal with economic growth, he says

PHNOM PENH--Minister of Agriculture, Forestry and Fisheries Veng Sakhon said that rice farmers who own small parcels of land need to diversify their agricultural production in order to boost their livelihood amid the country's rapid economic growth.
The ongoing economic development, Sakhon said, has absorbed urban and rural land—and especially agricultural land—leading to prices skyrocketing.
So, in order to maintain a decent living, it is important that farmers diversify their crop production and switch to aquafarming instead of only relying on rice production.
During a phone interview, Sakhon also called on rice farmers who own less than two hectares of agricultural land to plant other crops as well as harvest aquacultures and raise animals that are more financially beneficial at the current stage of economic development in the country.
"Our ministry has tried [to encourage them] to switch from current farming to grow other produces, but this can only be done as long as they consent to do so," Sakhon said.
The minister went on to say that, at the current stage of development in the country, farmers may need to own at least five hectares of land if they carry out traditional agricultural practices, which heavily rely on rainfall.
Farmers whose land is near proper irrigation system still need to own at least 2.5 hectares of land, Sakhon said. If their land is smaller than 2 hectares, they will not earn enough to support themselves and their families, he stressed.
"If we want them to grow rice—which is difficult—with a small parcel of land, they can't survive: It means that we [violate] their right to life," the minister said.
According to Sakhon, it is a normal trend to have the labor force in agriculture decline amid economic development.
"We are using all the options available, but we must accept that this is the process of an evolving society," he continued, pointing out that the Cambodian government is transforming the country away from an agriculture-based economy, its labor force being transferred from the agriculture to the industrial sector in accordance with the Cambodia Industrial Development Policy 2015-2025.
In Europe, Sakhon said, the total number of farmers amounts to just 1 percent of the workforce and this percentage is declining. However, European countries are able to earn higher income due to social and economic development, he added.
Related Articles