Farmers Set for Pailin Longan Export to China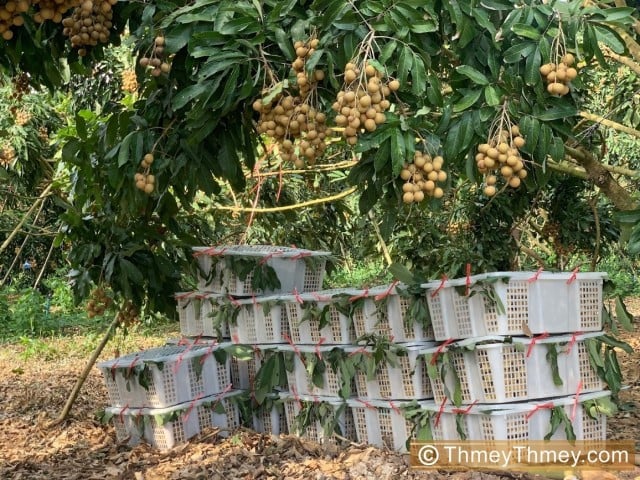 Ou Sokmean & Teng Yalirozy
May 21, 2021 10:18 AM
Companies wait for pact before major investment
PHNOM PENH--Pailin longan is set to be the third crop to export to China after rice and mangoes as farmers and the community await the announcement of an official agreement between Cambodia and China.
A senior Agriculture Ministry official said that Cambodia will officially export Pailin longan to China by the end of this year or early next. However, the plan could be delayed due to the Covid-19 crisis and other technical factors.
General Director of Agriculture Ngin Chhay predicted in August of last year that Cambodia would officially export Pailin longan to China late this year or early next year.
However, Ngin Chhay said in May that the plan may be postponed due to the global pandemic and some technical issues.
Long Ron, a farmer in Pailing, was happy and hoped Pailin longan could be officially exported to China sooner as planned by the ministry.
Long Ron, who owns a longan orchard with more than 600 trees, has been a member of the Pailing longan community since 2014 and has received a certificate of good agricultural practice from the ministry.
She said she was ready to supply her produce for export to China and was only waiting for the official agreement.
"So, when the exact date of the export agreement is announced, I will spend only seven months to harvest because the trees bear fruit when we want them to," Ron said.
For more than eight years, Pailin longan has been exported to China via Thailand, packaged as "Product of Thailand". The produce is transported through Battambang province.
Un Theng, a farmer in Pailin province with 15 hectares of longan, has been exporting his produce to a Chinese company based in Thailand, under the name of Thai products for 10 years.
He said the produce is generally transported to Thailand from 11 pm though farmers could transport it during the day.
Un Theng, too, is waiting for the official announcement of Pailin longan exports to China.
The Pailin longan community has a $3 million-plus disinfection and packaging factory, which is Chinese investment.
The factory has been built and equipped for more than two years but has not yet opened because there has no formal announcement of the export deal with China.
Vice president of Pailing longan community Soun Chum said this factory has four ovens for drying and disinfecting the longan. Each oven can dry nine tonnes of longan within 74 minutes.
He said an agreement to export Pailin longan to China would lead to Chinese investment.
"As soon as China officially agrees to export Cambodian Pailin longan, I hope that at least three more packaging factories will be established in Battambang and Pailin provinces,' Soun Chum said.
Pailin province has 4,389 hectares of longan plantations given to farmers and the communities, not including other cultivated land. There are 40 communities with more than 200 families in each, according to Say Sophat, director of Pailin provincial department of Agriculture. Forestry and Fisheries.
Say Sophat said Cambodia and China must officially have a Pailin longan protocol to enable exports. However, he had not been told when this would happen.
Pailing longan is also grown in Battambang and Banteay Meanchey provinces.
Cambodia announced the official export of fresh mangoes to China this month. The announcement came almost a year after the mango export protocol was agreed on June 9, 2020. Through this agreement, Cambodia will be able to export 500,000 tonnes of fresh mangoes to China each year.
Related Articles