Female Journalists Suffer Cyber Violence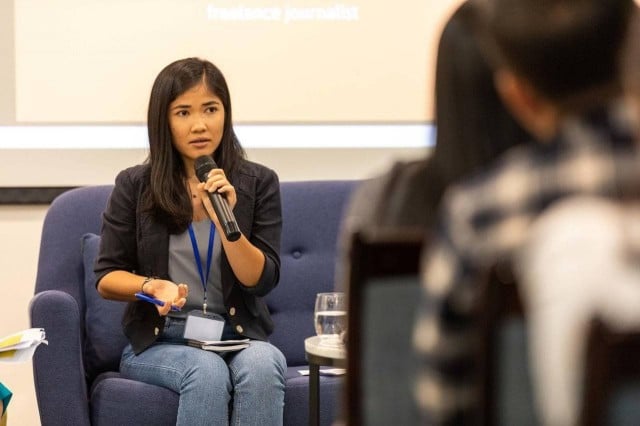 Nhek Sreyleak and Teng Yalirozy
May 6, 2021 7:09 AM
Victim tells of online stream of harassment and abuse
PHNOM PENH--Insults, threats and inappropriate comments are examples of cyber violence female journalists suffer, says Kann Vicheika who has experienced them all.
Vicheika, an independent correspondent of VOA, spoke of her experiences at a discussion group with the theme Information as a Public Good, held to mark the 28th World Press Freedom Day on May 3.
She has been working as a journalist for seven years, focusing on political issues, human rights, environment, and in-depth reporting.
She said the perpetrators of cyber harassment were politically motivated social media users, those who thought that news articles affected their interests, and individuals who used snide remarks.
Throughout her career, the 29-year-old has encountered sarcasm, insults, threats, and harassment, none of which is constructive criticism but which affects her mental health.
"When I started working as a journalist seven year ago, I met a lot of harassment and insults on the internet," Vichieka said. "I wanted to quit the profession; I didn't want to be a journalist anymore. It really affected my feelings."
Despite the many difficulties, Vicheika still pursues the profession, keeping herself motivated and getting comfort from her colleagues.
The solution to these problems has not been found yet and she seeks the support of female journalists through radios or news articles. She said she has never had a response from relevant ministries or institutions.
"I see that there are not many people speaking out about this issue. On the other hand, they probably perceive this issue as less serious," she said.
Vichieka believes that relevant ministries ought to take action as soon as possible and not wait until there are many female journalists facing the same issue, which could cause a decline in the number of female journalists working in the industry.
Information Ministry spokesman Meas Sophorn said the ministry had always provided support and encouragement to professional journalists, especially female journalists. He said he had seen how female journalists were encouraged as well as given many opportunities.
Regarding harassment of women journalists, Sophorn said the ministry had never received applications for assistance or complaints from female journalists seeking for protection.
According to the UN in Cambodia, cyber violence is a serious workplace hazard for women journalists. The UN says cyber violence often occurs when female journalists are performing their roles, in which they are constantly harassed, abused and threatened.
The UN called on social media companies and the government to protect female journalists from cyber violence, as the issue affects everyone.
Vichieka urges young female journalists to have the courage to pursue the work they like, and not worry about the challenges or dangers they may encounter.
Importantly, they should speak up when there is a problem. Cyber violence happens in almost every sector, therefore women journalists must do better work that can serve interests of society as a whole.
Related Articles