Fertilizer Checks Ordered After Drugs Import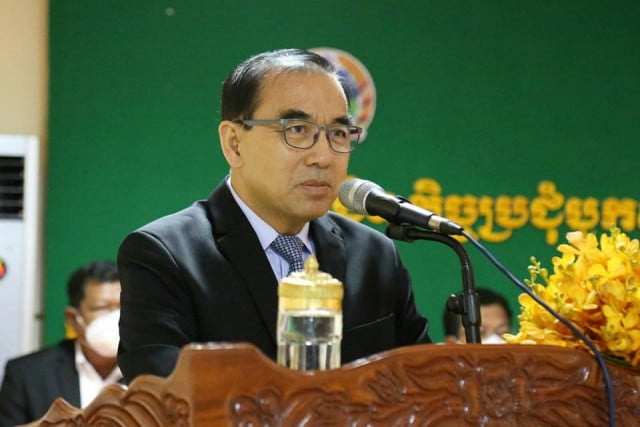 Sar Kheng criticizes un-named minister for slip-up
PHNOM PENH--Agriculture Minister Veng Sakhon has told his officials to pay more attention to inspections after drug precursor chemicals were imported as fertilizers and pesticides.
Speaking at the closing ceremony of the meeting of the General Department of Agriculture on Jan. 26, Sakhon said officials must cooperate with drug authorities over examination of chemicals.
His order came after Interior Minister Sar Kheng reacted angrily after a minister allowed the import of chemicals which could be used to produce drugs but which were labeled as fertilizer.
Kheng criticized ministers in charge of providing permits to private companies for chemicals imports.
"I do not need to say the name of the ministry that permits it to be brought in," Kheng said.
"His Excellency, please look at that, otherwise, you are responsible for Cambodian society in terms of destroying public health. The drug authorities must also look at that clearly."
He acknowledged also that substance abuse and drug trafficking charges account for 54.5 percent of Cambodia's prison population.
Cambodian Institute for Democracy president Pa Chanroeun said ministries should focus more on drug issues to investigate how drug chemicals can be imported. If anyone violates the law, they should be punished. The ministry should explain this clearly and publicly.
"I am very surprised to hear about the imported chemicals. I wonder how hundreds of tonnes of drug chemicals have been imported and whether the officials who signed for them really didn't know or abused the law, or if it was a technical error. It's not a simple case," he said.
He said that the drug issue is spread across all of society, even in the countryside. Citizens also talked about drug dealers. The ministry should pay more attention to border checks and internal inspections.
Increasing crackdowns by authorities were ineffective because there were more drug consumers and smugglers.
"In the last few years, there has been an increase in drug consumers and smugglers, showing there are inefficiencies in the fight against drugs that we need to pay more attention to," he said.
In 2021, the authority cracked down on two major drug production sites in Kampong Speu province. One case was in Oral district and another in Samrong district.
According to the report of the National Authority for Combating Drugs, in the first nine months of 2021, Cambodia imported more than 23,016 tonnes of related substances.
Related Articles