Finance Tech to Boost Government Efficiency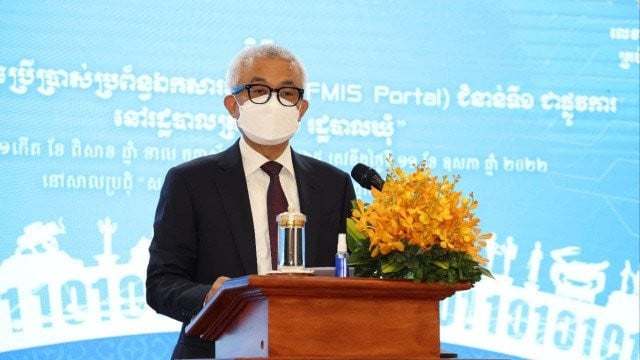 Tests start on transparency system
PHNOM PENH – A new system to manage local and national finances is to be tested with the aim of improving efficiency, transparency and accountability.
The Economy and Finance Ministry has taken the first step to trial the Financial Management Information System (FMIS) in 75 district and 185 commune administrations before expanding the system nationwide.
The first-generation FMIS Portal was launched on May 11 under the leadership of Minister of Economy and Finance Aun Pornmoniroth.
Pornmoniroth said the system will facilitate the implementation of budgets in district and commune administrations and reduce time spent on paperwork.
The introduction of the FMIS was in line with the national government's Action Plan of the Sub-National Administrative Reform Strategy 2019-2025.
"With the new implementation, the system will be digital-based in transferring documents or files, which saves a lot of time and money, particularly helping increase the efficiency of budget implementation for district and commune administrations," the minister said.
Executive director of Transparency International Cambodia Pech Pisey praised the introduction of the FMIS.
"I think it is a positive step, I and civil society organizations welcome and congratulate the Ministry of Economy and Finance and other relevant ministries for setting up the system that promotes the flow of information and management in a single channel which can lead to increased transparency, financial accountability and even reduce corruption," Pisey said.
The FMIS project was in line with developments in many countries. In Asia, E-governance systems were used to ensure the efficiency and effectiveness of services.
Promotion of technology in the flow of information and public service provision is of great importance to reduce bureaucracy and corruption but there were negatives, Pisey said.
For the FMIS to function effectively, training courses and outreach to public officials should be taken into consideration. Each ministry should also adapt the use of advanced systems into the working environment and process.
Adaptation and dissemination of this new system should be a priority to avoid misconduct and ineffectiveness of implementation.
Related Articles