Five Cambodian Cruise Ships Rejected by Vietnam to Dock in Phnom Penh Port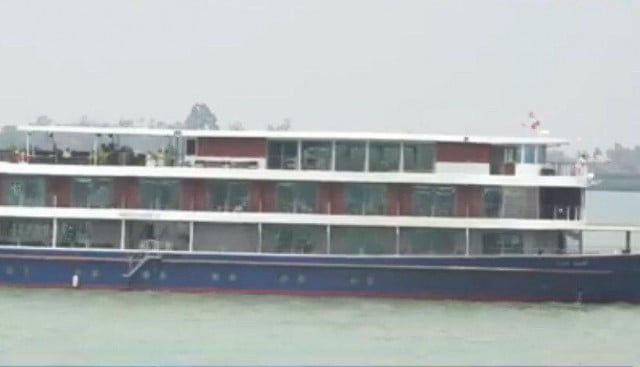 Sao Sokeng
March 17, 2020 11:00 AM
The boats will dock tonight, with passengers showing no symptoms according to a representative from the Ministry of Public Works and Transportation, who could not clarify if those aboard the boats had been tested.

PHNOM PENH--Five Cambodian cruise ships that were banned from docking in Vietnam will arrive in Phnom Penh's port Tuesday evening, according the Ministry of Public Works and Transportation.

Mak Sideth, director general of the General Department of Waterway and Maritime Transport, and Ports said that the 77 tourists aboard the five boats are ostensibly healthy and have not currently exhibited any symptoms of COVID-19, adding that the passengers were already checked in Vietnam.

However, Sideth did not go into detail about the testing carried out in Vietnam or the results of such tests, but did note that Vietnam denied entry to the Cambodian vessels.

He warned that Cambodia will not allow those tourists to land initially. Pending the results of an examination by officials from the Ministry of Health, the passengers will be allowed to return to their home countries provided they are healthy.

"All 77 tourists on the ships, if they have no COVID-19 symptoms, will be allowed to leave, but in the case they show symptoms of COVID-19, Cambodia will not allow them to leave," he said.

Sideth did not clarify whether the Ministry of Health would be testing the passengers for COVID-19 and sending samples to Pasteur Institut du Cambodge or merely checking for symptoms of the virus and official spokespeople of the Ministry of Health could not be reached for comment at press time.

The tour companies responsible for the cruise ships have arranged plane tickets for the 77 tourists to return to their home countries, on March 18 or 19.

On March 15, the Vietnamese government denied a request to dock for the five Cambodian ships carrying tourists from Siem Reap to Vietnam who have since turned back and will arrive in Phnom Penh this evening.


Related Articles