Five Cambodian Environmentalists Are under Arrest in Kratie Province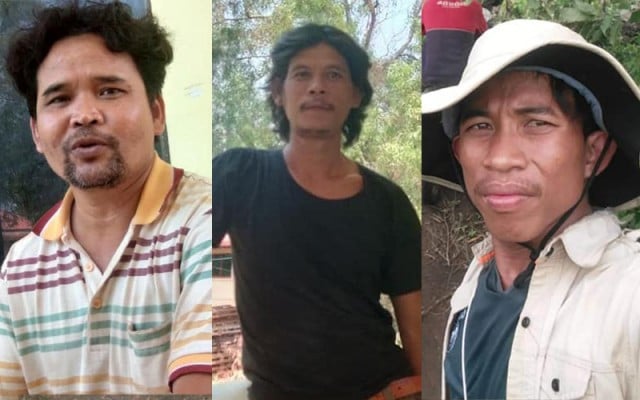 Romdoul Chetra and Phoung Vantha
February 6, 2021 12:46 PM
They were apprehended as they were about to put up signs in the forest calling on people to protect it
PHNOM PENH--Award-winning environmentalist Ouch Leng and four other environmental activists on Feb. 5 were detained by the Kratie provincial authorities as they were about to display signs in the forest to remind people to preserve it.
Leng, who is president of the Cambodia Human Rights Task Force and a Goldman Environmental Prize winner, along with Heng Sros, Men Math, Heng Run and Choup Cheang were arrested by Kratie Province's environment officers as they were carrying signs saying "[p]lease help preserve our ancestral-heritage forest" that they meant to put on trees to help prevent deforestation.
Duong Savuth, director of the Kratie Provincial Environment Department, on Feb. 6 said that the activists were arrested for entering a restricted area under the protection of the Ministry of Environment without proper authorization. "The authorities are interrogating [them] and examining the facts," he said. "[W]ait for the work to be completed: I will make an announcement."
Choub Sreynuth, the wife of Heng Sros, called on the authorities to release her husband and the other environmentalists. "What has my husband done wrong," she said. "As a citizen just contributing to the protection of the forest, contributing to the protection of natural resources, why was he arrested and charged? It's really an injustice."
Soeng Senkaruna, an investigator with the human-rights group Adhoc, said that the authorities should not arrest these environmental activists. They just watch the forest, gather information, and put up slogans to remind people to protect these forests, he said.
"The authorities should arrest those committing forest crimes because it is something that should be done," Senkaruna added.
In March 2020, four of these environmentalists had been arrested by the private security forces of the Think Biotech company as they were travelling on motorbikes to monitor and investigate illegal logging activities in the Prey Lang area of Kratie Province.
Ouch Leng, Khem Soky, Srey Thei and Man Mat had been released on March 16, 2020 after a 2-day trial in Kratie Province with the understanding that they were remaining under court supervision and that Leng had to register with the ministry before doing any activity.
Related Articles