Five Khmer Antiquities Taken from the Country Decades Ago Are Repatriated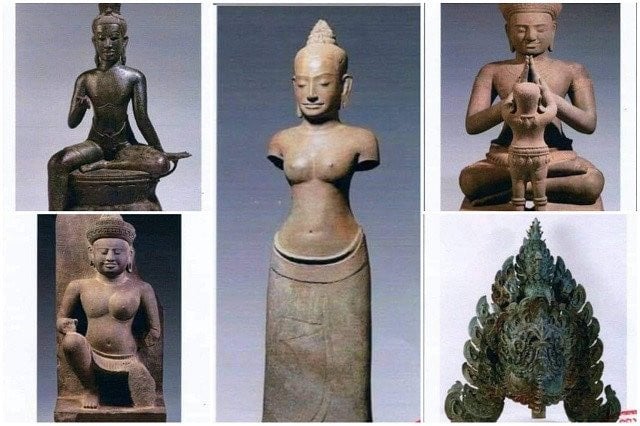 They are part of the artworks the late Douglas Latchford had somehow acquired

PHNOM PENH-- The Ministry of Culture and Fine Arts announced that five of the 100 or so stone and bronze Khmer artifacts to be returned to Cambodia by the family of the late Douglas Latchford were sent from the United Kingdom on Sept. 29.
"In this initial stage, five Khmer masterpieces—including a stone sculpture of Shiva and Skanda originally from Koh Ker, a half male-female statue and a bronze boat prow—will be returned from the United Kingdom to their homeland, Cambodia," the ministry said in a press release on Sept. 29.
According to Hab Touch, secretary of state for the Ministry of Culture and Fine Arts, the 100 or so Khmer antiquities will be returned to Cambodia in several phases starting with those considered the most important. And it is the Ministry of Fine Arts that is setting the order in which the works are being returned, he said.
"In the first phase, these five items [are being] returned," Touch said. "The ministry is the one who decides and chooses which items need to be returned to Cambodia. We are first selecting the important items that are unique and priceless treasures.
"These [five] selected items are exquisite works [created by our] Cambodian ancestors," he said. "At a later date, we will make another decision on which works will be sent next to Cambodia."
On Sept. 11, 2020, Cambodia and the family of the late Douglas Latchford signed an agreement for the return of more than 100 stone and bronze Khmer antiquities following three years of negotiations. The first five ones will be taken to the National Museum in Phnom Penh where experts will study and restore them, Touch said.
Latchford, who passed away in August at age of 89 in 2020, was suspected of having acquired Angkorian artifacts through Cambodian and Thai smugglers as far back as the 1950s and 1960s.
In November 2019, he was charged by the United States Attorney's Office for the Southern District of New York of falsifying invoices and other documents to sell artifacts to museums, auction houses and art dealers.
Nawapan Kriangsak, the daughter of Latchford, decided to return all of her father's collection of Khmer antiquities because these objects tend to be a burden to properly store and maintain and, she said, they belong to their country of origin where they can be cared for, according to the New York Times.
"I would like everything that Douglas assembled to be kept where people around the world can enjoy it and understand it," she told the New York Times. "There is no better place than Cambodia, where the people revere these objects not just for their art or history, but for their religious significance."
As for the means and ways through which her father may have acquired his collection, she said that she considered her late father's collection to be an act of respect for these works of Khmer art rather than greed.
Khmer antiquities smugglers have been suspected of getting original artifacts and then making copies to maximize profit out of each work. Asked whether there would be thorough research and analysis of each antiquity returned by Latchford's family, Secretary of State Hab Touch said that an investigation will be conducted.
"The process is a bit complicated," he said. "We investigate the original sources of the antiquities, such as from which eras [and areas] the items came from. So, it's complicated. We then review the documents that we have on hand and investigate market circulation. We do have witnesses, but it's complicated. We cannot tell exactly."
Once all this will have been done and these first five statues have been studied and cared for by the restoration and other experts at the National Museum, they will be set on display and an official handover ceremony will take place, Touch said.
To have objects that are part of Cambodia's legacy, which were made by the country's Khmer ancestors, and that are returned after being taken away for a long time is something to celebrate, he said. Because these artworks, Touch said, "they are our pride and joy."
Related Articles