Flooded Farmers Call for Rice Price Stabilization as Businesses Fail and Debts Rise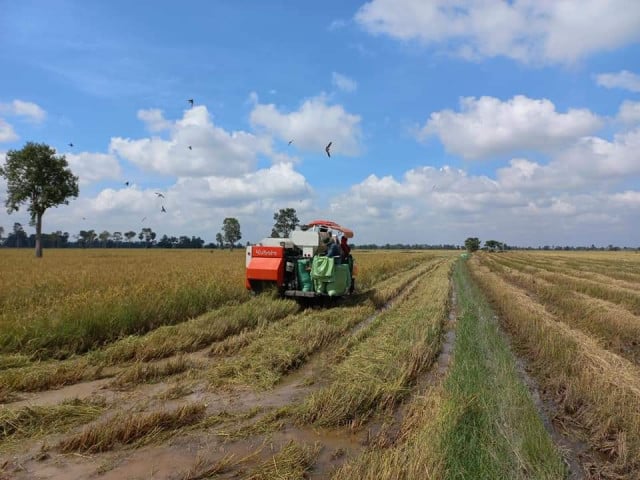 In Svay Rieng Province, heavy rainfall has rotted crops and market prices for rice have left farmers unable to pay off debts they'd taken on to keep their farms alive
PHNOM PENH--Flooding and rising cost of doing business has forced farmers in Svay Rieng Province to choose between paying their debts off and keeping their businesses afloat.
With expenses rising when it comes to machinery, petrol to run it, fertilizers and pesticides, Cambodia's rice farmers have seen the price of rice fall, leaving their businesses on shaky ground. Now, they're calling on the government to stabilize the price of rice and address the soaring prices of farmyard supplies, as well as petrol—which has recently jumped significantly.
Deep in debt, Svay Rieng Province's farmers like Khieu Saron have lost almost their entire crops to recent flooding. From what was supposed to be a 4-ton yield of rice, Saron has managed to salvage just 1 one and has lost a lot of income in the process.
"My family has no income. This year the weather has always been changing and our farm is losing a lot of rice," she said.
The money she made last year have scarcely covered the cost of this year's harvest, she said, noting that the falling price of rice has meant that she has been forced to sell at a lower price while her business expenses continue to rise.
This, she said, could not have come at a worse time as she recently took out a $10,000 loan to purchase a tractor for ploughing. With the burden of raising seven children, caring for her elderly mother and a nephew, Saron is worried that she will not be able to pay the interest on her loan and that the bank will confiscate her farmland.
"I was afraid that my farm will be taken over by a new owner because when I borrowed money, I put the land title up as collateral for the bank," she said. "So, when I cannot find any income to pay, I am afraid it will be confiscated because in the past, there were many families whose banks confiscated their land."
On Phally, another farmer in Svay Rieng's Rumduol District, said that flooding destroyed almost half of her rice farm which is more than 1 hectare.
"This year's farming is not profitable because of the high cost of fertilizer, the combine harvesters' cost is high, while the yield is almost insufficient for the family to eat," she said.
Each year, Phally said she borrows money from either the bank or—when the bank refuses—a private lender. These loans are taken out so she can buy fertilizer, rent the combine harvester or a tractor and then pay laborers for harvesting.
Now, she fears she won't have enough money to pay off this year's debt due to low rice yields and cheap prices, she added.
Meanwhile in Romeas Hek District, the same story is unfolding for Loch Tha—a farmer with a 3-hectare plot of rice—who said his yield this year has dropped almost 50 percent by contrast to last year. Much of the damage, he concurred, was due to unseasonably heavy rains, which rotted his rice.
But the going rate of 800 riel—roughly $0.20—per kilogram has almost wiped out his business in the course of a year.
Tha said he spends more than $2,000 on fertilizers, pesticides, and combine harvester fees each year, a sum he can usually recoup from rice sales and still profit from, but this year, his rice sold for less than $1,500.
He called on the Ministry of Agriculture to establish better irrigation and drainage systems to steel his crops against the erratic weather resulting from the climate crisis. However, he added that farmers across the country need the price of rice stabilizing and the price of farmyard equipment reducing.
"If the price of rice continues to fall, then there will be a significant risk to our livelihoods," he said. "The yields fall, but fertilizers are expensive and so is fuel. When it comes to fuel prices, this affects the cost of using the harvesters."
Related Articles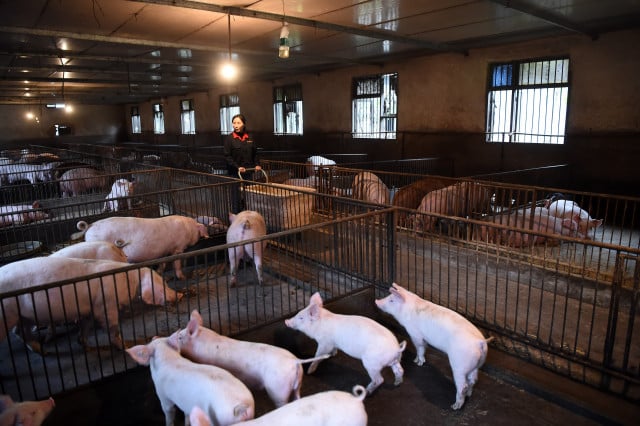 September 26, 2019 12:06 AM