Food Security Linked to Trade Access and Resilient Agriculture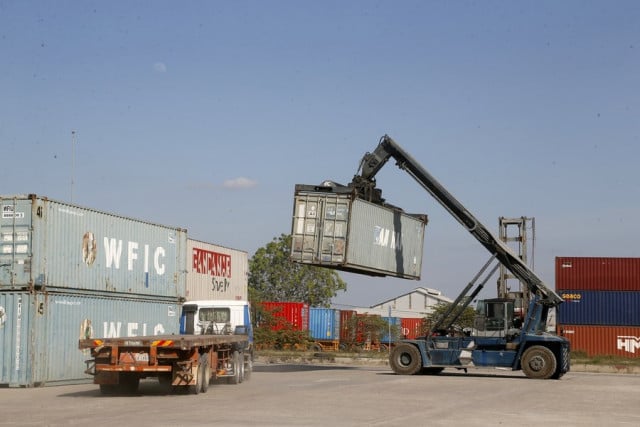 DOHA – Like many least-developed countries, Cambodia's food security remains most vulnerable to external crises, but boosting trade access for food and enhancing resilient agriculture will ensure sustainable food security.
The global pandemic, climate crisis and the Russia-Ukraine war have exacerbated global food insecurity, generating mounting stress on poor countries, where more people have become vulnerable to food shortages.
More than 60 percent of people in the LDCs deal with food insecurity – twice as much as in developing countries, and six times as much as in developed countries, says a new report titled "LDC Trade Report: Improving trade for food security in times of crises."
The report was commissioned by the International Trade Center (ITC) and was launched on March 5 on the sidelines of the fifth UN Conference on the Least Developed Countries (LDC5).
But the limited trade access to food and the lack of sources of food in the LDCs have remained tremendous challenges for these countries when it comes to ensuring food security.
In addition, food importers in the least developed countries continue to be affected by issues related to "customs valuations, customs surcharges and merchandise handling or storing fees."
Meanwhile, the least developed countries impose a 17 percent tariff on food imports, while developing and developed countries levy 15 percent and 8 percent, respectively, the report notes.
As one of the 46 least developed countries, Cambodia remains highly vulnerable to economic and environmental fluctuations as it depends highly on agriculture for livelihoods and as a source of food despite increasing incomes and skills development, says ITC executive director Pamela Coke-Hamilton.
"Currently, 50 percent of Cambodians experience moderate or severe food insecurity — less than the average for least developed countries (62 percent) but more than in other developing countries (31 percent)," Coke-Hamilton said.
The country still relies on imports for sugar maize, wheat, and processed foods, making food imports vital in bringing variety to diets in normal times and can be crucial for food security when affected by seasonal floods and droughts, or natural disasters.
"In other words, trade can support food security in Cambodia, allowing for richer diets, and by shifting food from abundant to scarce locations," she said.

Access for food trade

Coke-Hamilton says Cambodia can do more by leveraging trade for food security, particularly through trade access by re-evaluating tariffs on imports, reviewing import regulations and procedures, and considering export restrictions.
"Tariffs on food imports in Cambodia stand at 17% on average, including almost 7% on sugar, over 5% on maize and higher rates for many processed foods," Coke-Hamilton said, adding that considering temporary or definitive suspensions and establishing mechanisms that allow for rapid action on food tariffs when faced with shocks will be crucial for the country.
In terms of regulations, she cited importers' challenges in complying with regulations as there are related procedural obstacles, in particular delays, disputes over the valuation of goods, informal payments, high fees and charges, and difficult-to-fill documentation.
"Trade facilitation measures such as the simplification of processes and well-functioning 'fast lanes' can address some of the difficulties," she said.
As Cambodia resorted to export restrictions, for example on rice and fish, to stabilize local food markets during the pandemic and global food price hikes in the past, Coke-Hamilton said they can also disincentivize local food production and increase pressure on international prices although the restrictions can limit increases in domestic prices.
She suggested that Cambodia keeps in mind that the restrictions could have a negative impact on domestic and global markets when evaluating the adoption of export restrictions.
More than adjusting measures on market access, Cambodia could improve the link between trade and food security by tapping into alternative sources of food supplies.
"In this regard, Cambodia can look at diversifying providers and strengthening domestic and regional agrifood value chains, including by incentivizing the production and export of food products beyond traditional cash crops."
When asked what the ITC has been doing to support Cambodia in improving trade to boost its food security, Coke-Hamilton said TIC has been working with the Ministry of Industry, Science, Technology and Innovation to better understand small and medium enterprises' strengths and weaknesses as well as to identify opportunities to improve their competitiveness for trade and resilience.
"You need to collect and analyse data about the national trade landscape to make sound decisions on how to improve trade to boost food security – and beyond that, to work towards sustainable economic development."
Focusing on small businesses was crucial when it came to improving food security as small firms did better when they had access to networks and market information from business support organizations.
"Investing in small businesses can help improve food security while strengthening the overall trade environment, as small firms are key suppliers along agricultural value chains," Coke-Hamilton said.
Building resilience in food security
As one of the countries most vulnerable to the climate crisis, Cambodia's food production has been increasingly threatened. That is why building resilience in food security is critical against the uncertainties and risks driven by the global climate crisis.
Chief economist of the Food and Agriculture Organization (FAO), Maximo Cullen Torero noted Cambodia's food production system has been facing the same challenges as many countries vulnerable to climate change are facing.
"That means agriculture will be seen under the mechanism of risks and uncertainty. To be resilient to that kind of risk and uncertainty implies that you can operate in what you call options because you don't know the state of nature whether you will have droughts or floods. And you need to be prepared," Maximo said, adding that each country needs to have strategies to cope.
He said Cambodia has been prepared an early warning system, which allows the country to have the capacity to predict in terms of climate and weather issues.
"So, you are more prepared. But what you need more is insurance. Not only farming insurance but insurance that allows you to cope with the huge shocks that could affect the entire region," he added, continuing that such insurance doesn't need to be developed by Cambodia but should be by development partners including FAO.
Maximo also concurred that building resilience in food security can also be achieved through boosting trade accessibility as it is contributing to enhancing absorption capacity — one of the dimensions of resilience.
"It is important that you have diversification of inputs, so that you don't face what Africa faces because of a war of Ukraine where one country imports up to 80 of its food from Ukraine. When Ukraine was shut down, you have no other trade partners," Maximo said.
"That is why you want more diversity."
In terms of building resilience, Maximo said Cambodia needs to also it can cope with the shocks, explaining that the capacity is strongly linked to the increasing scale of production and productivity.
"In this sense, it doesn't mean you don't need to be self-sufficient, but you need to produce more of what you have a comparative advantage to produce," he emphasized, pointing out that so far Cambodia has also been pursuing diversifications of agricultural productions.
"That's why the country needs more science, technology, and innovation. You need to put more efforts into this."
Speaking of science and innovation in food production, Maximo said Cambodia has been working in developing rice varieties that are drought resistant and use less water.
"As for rice, Cambodia needs to expand and diversify towards high-value commodities. That is why you need science and innovation. But the important thing about science and innovation is you need to profit from something that you have already developed. And at some point, you need to develop your own crops.
"Cambodian need to invest in this and profit from your own innovation," he explained.
As one of Cambodia's partners, Maximo said, FAO hopes to see Cambodia continue to develop and improve infrastructure as an effort of building back better.
"I hope Cambodia will continue on the road of improving infrastructures. Cambodia also has been doing a lot of way to coordinate farmers, just similar to Vietnam with corporate farming with the Japanese government. I know now you are working with the Chinese government. So, a lot of potentials to increase the scale of production so that you can produce more with less," he underlined.
Next task: dealing with food waste
According to FAO's chief economist, up to 17 percent of global food is wasted while 14 percent is lost, meaning dealing with food waste will be vital in ensuring food security.
When it comes to addressing food waste, Cambodia needs to do more in terms of developing regulations that aim at reducing food waste and enhancing public understanding of the food waste issue. Over the past years, experts also called for food waste to be tackled through proper and better education strategies developed as the issue links not only to food security or macroeconomics but also microeconomic and livelihood issues.

"In terms of waste, incentives must be put in place. For example, restaurants. What are the policies behind, so that they can recycle the food they don't consume," he said.
"There are very nice programs through food banks because you want to achieve food safety in part."
The capacity of food banks to be able to capture on this food that come out of the retail markets also needs to be in place.
Another solution is there also had to be regulations in terms of the extension of the life of the products that can be consumed.
"Like in Europe, you can only consume up to a certain date. This is the big problem that they have and that is why they have so much waste," Maximo said. "Cambodia needs to learn from this along the way."
However, according to the expert, what should be done further is awareness raising to change behavior of people so that they can be mindful about the problems they create when consuming and purchasing food.
"It is not just emission you use to produce that, but also emission that you create when you burn it because the waste is sent to other places to be burned. It creates even more greenhouse emissions. And you also make food more expensive because you are not consuming it, you just buy it so that poor people who need the availability do not have it," he said.
He suggests a government role in regulations and establishing food banks. Youth groups can also take the lead in ensuring more people are aware of food waste, enabling them to take further action.
"I think some food banks have storage but the best ones don't need it," he said.
"They just bring food from the retail shops to the places where people need it most. However, it is difficult because it requires a lot of coordination."
Related Articles