Food to Get Country of Origin Labels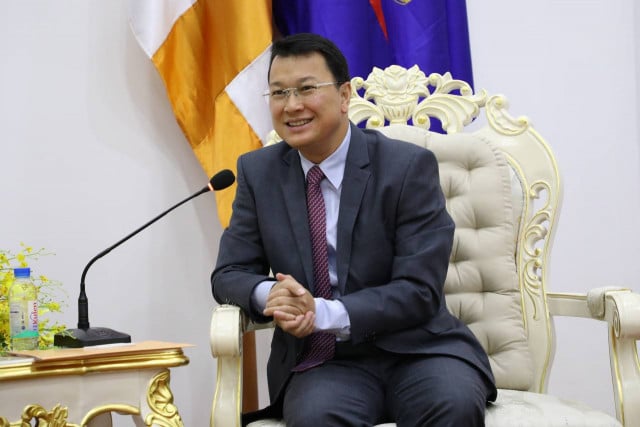 PHNOM PENH – The Ministry of Agriculture intended to introduce food labelling so that consumers can tell the difference between imported and local agricultural products.
With clear marking, people who are nationalists and support Cambodian work and products can make easier decisions, Tith Dina, Minister of Agriculture, Forestry and Fisheries, said on Dec. 6.
But people can buy imported products if they are cheaper and of the same quality.
However, the new system demanded a lot of integrity, he said.
He welcomed constructive criticism with an evidence basis and comprehensive information to put into policy considerations.
In his 50 days as minister, he has received a lot of criticism over the issue of cheap rice but he said this cannot interrupt his mission to promote agriculture.
Speaking at a meeting with the press, Dina said there were many problems in agriculture and many methods that people think and talk rationally about. However, these can be short-lived and cause other problems later. Therefore, he must check the reality and evaluate based on technical, political and economic factors.
The minister said scientific and realistic criticism would help solve Cambodia's agricultural problems. The ministry was optimistic that it will be able to contribute to the transformation and bring about real results.
"If the statement is correct, there is a real reason, I always consider and correct, but if the criticism is incorrect, their assessment is incorrect, how can they provide a long-term solution," he said.
"I'm not the type to be discouraged, but I'm realistic which I need for real and comprehensive information."
Immediate Issues Take Priority in the First 50 Day
During his 50 days as Agriculture Minister, Dina's priority has been to solve the problems that are happening first, such as the lack of markets for rice and low prices due to excessive harvest.
He says the long-term solution is to start reforms of production and for buyers to change attitudes while the government has to help and motivate according to the situation.
The problem was about quantity rather than demand, which would lead to lower prices but require long-term reforms. He mentioned the fall in the price of live pigs, due to large quantities, thus shifting from family farming to business.
In the past, family farming was okay because there was not much competition, both domestically and abroad, but now there is a lot of competition, so farmers need to change their pig raising behavior, he said.
Tith Dina said ministry policies depends on comprehensive information, not gossip, and the collection of information. Otherwise, measures or policies will just compound the problems.
"The measures I have put in place are not selfish measures, especially the solution to the declining rice prices, which the ministry is already trying to solve and can effectively help the people more," Dina said.
Related Articles