Football Hero Pen Phath to Dedicate Rest of Life to Cambodia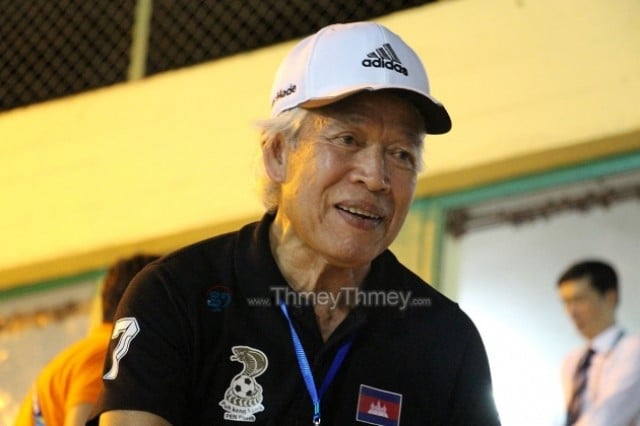 Souern Vandet
June 6, 2020 4:28 AM
Having spent much of his career in Thailand, Pen Phath seeks to come home and train the next generation of footballers in Cambodia.
PHNOM PENH--Former Cambodian national football team legend Pen Phath expressed on Thursday (June 4) his intention to help develop football locally amid the speculation that he will return to Cambodia having completed his job in Thailand. Phath, who is now a French citizen, rose to fame during 1960s and 1970s.
In interview with ThmeyThmey, Phath said that he wants dedicate the rest of his life to Cambodia by helping to promote the sport and share his experiences with a younger generation. Through youth engagement, he said, he will be making a lasting contribution to football and to Cambodia.
The 72-year-old continued that he also intends to leave a legacy for Cambodians and help to bring about further sporting accomplishments for the nation.
"I want to do something for young Cambodians for the rest of my life, while I can still run, play and have the energy to do so, I want to do something for my dignity," said Phath, who earned the nickname the Snake during his professionally active years due to his swift, serpentine control of the ball. He added that he can still play and that he can help train young Cambodians to become professional footballers.
Phath's commitment came amid rumors he is going to coach at a football academy in Siem Reap sometime around the end of 2020. If the claims are true, Phath would likely achieve his goal of galvanizing young Cambodians to pursue a career in football.
Having fled to Thailand in 1972 as Cambodia descended into war, Phath has spent much of his career in Thailand and was, until April 2020, working as a coach at Thai Kids Soccer Academy Chonbori in Chonburi province. Since the outbreak of Coronavirus Disease 2019 (COVID-19), he has been stranded there because of the ban on air travel.


Related Articles