For Life and Nature – an Artist's Appeal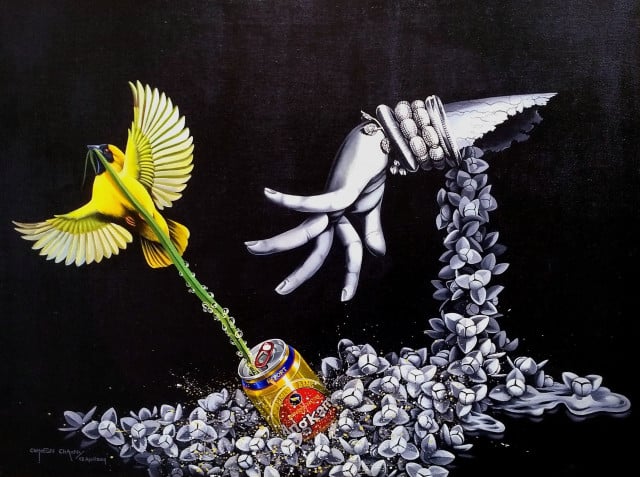 Michelle Vachon
September 1, 2019 5:56 AM
PHNOM PENH--Chhoeun Channy was 11 years old when his family moved to the jungle 60 kilometers or so from Battambang City in 1999.
"The government gave us land to make a farm there," he said. "It was not easy because it really was in the jungle with dangerous animals and so on."
Even though settling there proved difficult—they were more than 90-minute walk from the market, school or any medical facility—Channy grew a profound love for nature in this remote setting.
He also learned to value human life. Today, this is reflected in his artworks as can be seen in his exhibition at the Gallery of hotel Sofitel Phnom Penh Phokeethra in Phnom Penh.
Artist Chhoeun Channy with his work "Household Smoke Bluethroat." (Photo: Sofitel Phnom Penh Phokeethra)


Paintings with powerful messages
Entitled "Out of Control," the exhibition features birds shown in their sumptuous colors and natural settings that, in too many cases, have turned hazardous for them due to human carelessness.
In his work "Red Line – Peacock," magnificent birds appear in pale blues, green and fuchsia with trees and a peaceful river in the background. The female peacock, however, is dripping brown residue and decomposing thread she probably collected from garbage thrown in the water or on the bank.
Artwork by Chhoeun Channy entitled "Red Line Peacock." (Photo: Sofitel Phnom Penh Phokeethra)


In "Deception - Plain Prinia," small green and white birds share what should be food but is a beer can pull-tab as they appear against a background of leaves in tones of green.
And in "Household Smoke Bluethroat," the image turns purely symbolic. Set against a black backdrop, a human hand seems to emerge from the ashes of cigarettes butts still smoking. The hand is raised toward a bird caught in the smoke that forms a cloud over its brown and beige head with a touch of blue below its beak.
Channy means his work to carry two messages, and it is to make them better understood that he stays away from abstract painting—a style he also loves—and uses a more surrealistic approach. "I want people and especially Cambodians to understand the meaning and feel it when they look at a painting," he said.
First, his work is an appeal to value and protect the jungle and living creatures, and this also means to only throw garbage at appropriate locations, he said.
Artwork by Chhoeun Channy entitled "Deception, Plain Prinia." (Photo: Sofitel Phnom Penh Phokeethra)


Channy also intends to reach young Cambodians and warn them not to smoke or drink alcohol excessively. "The kids in school cannot control themselves," he said. "They drink before they are 18."
On television and in movies, people who smoke and drink are often shown in luxury homes and big cars, which often makes teenagers associate such behavior with financial success, he said. "I hope my paintings will help them think about what they are doing."
A difficult journey
Channy knows very well what it is to wish for better circumstances. Growing up in the jungle in the early 2000s, life was harsh, he said. Since his family could not afford a mobile phone, they could not communicate with his father who worked in Thailand and would only return once a year to bring his wife and five children the money he had earned.
"We were trying to survive," he said. "We had a village but no service.
"We were far from the market, far from the pagoda, far from school. When I went to school, I had to walk in the jungle one hour and a half," he said. "And there was no school building. We learned under the trees."
When his father stopped going to Thailand, one of his first projects was to make sure that Channy, his eldest child, would get an education. A musician of Khmer traditional instruments by training, he had seen how much his son loved to draw. So when he heard that the NGO Phare Ponleu Selpak near Battambang City was offering free arts classes to students of poor families, he and Channy made the trip to the city.
"When I went to school…I did not know what art was," Channy said. "I just knew painting: to make it beautiful and make the feeling of the beautiful place I want.
"I did not think that art could change the world, I did not think art could make people change," he said.
But at Phare, teachers talked about art every day and made students understand how powerful it can be and how it can touch people, Channy said.
Artwork by Chhoeun Channy entitled "Bigger than me, Magpie Robin." (Photo: Sofitel Phnom Penh Phokeethra)


Rediscovering the value of life
After graduation, he forgot about art and, for two years, worked in a market in Siem Reap City so he could send money to his family.
But when Channy went to visit them after a long absence, he saw that there no longer was trace of the jungle in or around his village: Gone was the environment of trees and birds that had brought him peace when he was growing. "It hurt when I saw this," he said.
So Channy decided to paint. "I wanted to talk about the jungle…to make everyone try to take care of the jungle and animals like we take care of ourselves to be well and alive," he said.
Channy's first exhibition took place in Siem Reap City in 2016. He invited his parents who had only seen his drawings in sketchbooks. "They cried when they saw [my] big paintings on the wall," he said. "They were really proud of me."
The exhibition was a success and Channy has been a fulltime artist ever since.
With this current exhibition, he said, "I would like Cambodians to look at the artworks…feel it and understand.
"I hope this will make people think about [preserving nature]. I cannot change things. But hopefully in the future, people will take action," Channy said.
The exhibition runs through October.
*Sidebar:
Chhoeun Channy will be at the Gallery Monday and Tuesday (Sept. 2 and 3) to welcome people wishing to meet and talk with him. All are invited.
. Where: The Gallery, hotel Sofitel Phnom Penh Phokeethra, off Sothearos Boulevard near Aeon Mall
. When: Monday and Tuesday, from 1 pm to 5 pm
. For more information: call Sofitel Phnom Penh hotline at 023 999 200
Related Articles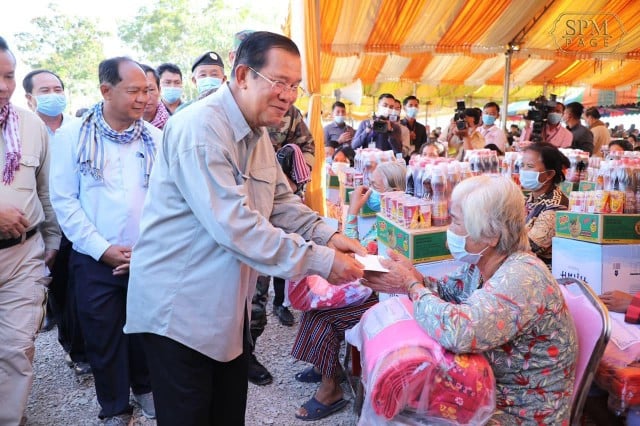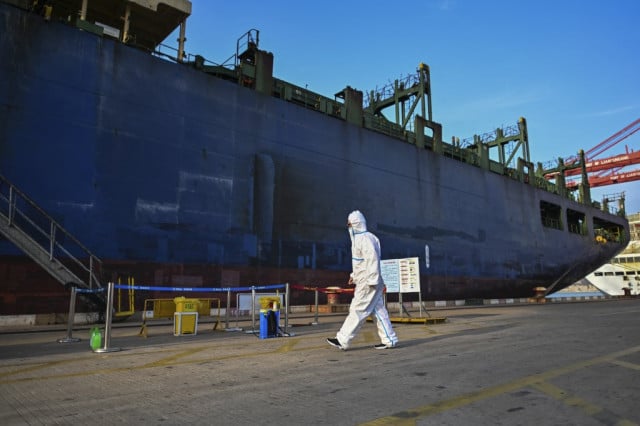 November 15, 2020 9:28 AM