Foreign Environmentalists Granted Cambodian Citizenship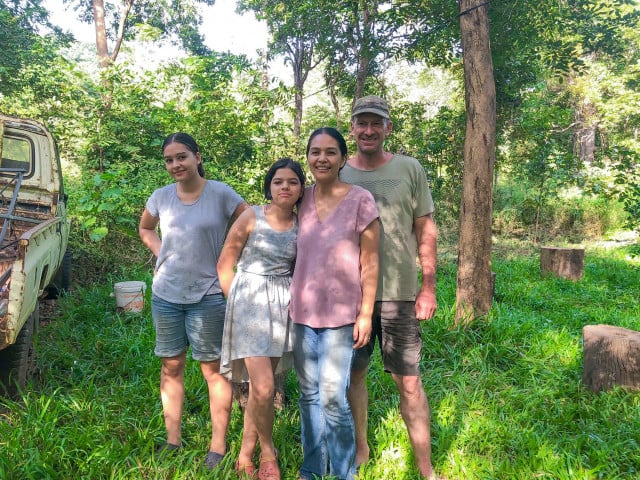 Having lived in Cambodia for some 30 years, the Davis family have been granted citizenship as a reward for their conservation work in Preah Vihear Province
PHNOM PENH--King Norodom Sihamoni on Jan. 26 granted Cambodian citizenship by naturalization to American-born Ben Joseph Davis, his Australian wife Patricia Sharyn Lwin and their two daughters.
Lwin said her family applied for Cambodian citizenship last year through the Ministry of Environment, adding that she and her family did not expect to actually be granted citizenship by the Cambodian government. As such, she said she was beyond excited about being granted the citizenship.
"The reason I applied for Cambodian citizenship because I have been living here, protecting and conserving natural resources in Cambodia for a long time. Generally speaking, I have already adopted the living, food, and living habits of Cambodians," said Lwin.
She first came to Cambodia in 1997 whilst Davis, her husband, arrived in 1992. Living in Cambodia for 30 years, Davis and Lwin have been protecting natural resources and the environment with the support of the government.
According to Lwin, although they now have Cambodian citizenship, this environmentalist family will continue to use their original names.
Neth Pheaktra, spokesperson of the Ministry of Environment, said that the granting of Cambodian nationality by naturalization as a family was due to their determination and sacrifices in protecting and conserving forests and wildlife resources in Phnom Tnaot Wildlife Sanctuary in Preah Vihear Province.
"[The] Davis family's contribution with the Ministry of Environment to protecting and conserving natural resources with honesty, high level of responsibility, and prioritizing the interests of natural resources as a whole—this is the appreciation and gratitude for the true environmentalists," Pheaktra said.
Related Articles