Foreign Minister Prak Sokhonn Says that Hun Sen's Trip to Myanmar Was Successful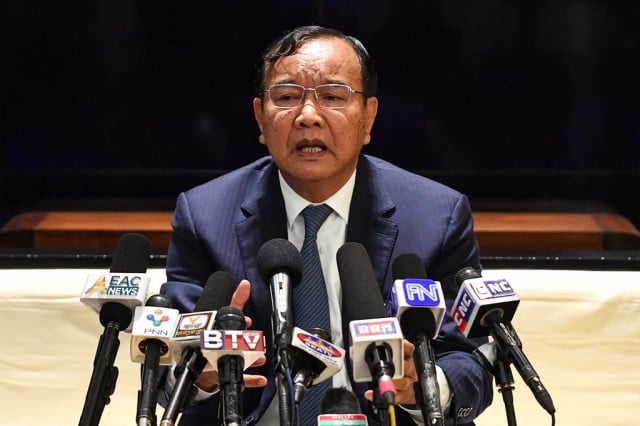 Responding to criticisms voiced regarding the prime minister's trip to that country, Sokhonn said that steps had to be taken to prevent the situation from deteriorating in that country

PHNOM PENH-- Deputy Prime Minister and Foreign Minister Prak Sokhonn said on Jan. 8 that Prime Minister Hun Sen's visit to Myanmar yielded significant results paving the way for further steps to be taken to address the political crisis in that country.

Speaking at a press conference upon his arrival at Phnom Penh International Airport, Sokhonn, who is the special envoy of the ASEAN chair, said that the visit by Hun Sen leads to secure an extension of ceasefires with other armed groups, humanitarian aid delivery as well as pledges from the military to assist him the special envoy in implementing the five-point consensus.

These agreements were made during bilateral talks between Hun Sen and Min Aung Hlaing, chairman of Myanmar's State Administration Council, which took place in Naypyidaw, Myanmar's capital.
The prime minister, who arrived on his two-day official visit on Jan. 7, became the first foreign leader to meet Myanmar's junta leader since the Feb. 1, 2021 coup during which Myanmar's armed forces seized power in the country following the National League of Democracy winning the national elections in November 2020.
During the press conference, Sokhonn recognized that the crisis in that country was quite complicated and could not be addressed successfully in one trip, and that it will take time, patience and realistic approaches.
He went on to say that he has been well aware of disparagement against the visit as well as the outcomes of the visit.
"If you follow the news related to demonstrations and condemnation, it is really bitter," Sokhonn stressed, referring to the wave of disapproval raised by some Myanmar people as well as attempts to prevent Hun Sen's visit.
Hun Sen used his official Facebook page to respond to those who were critical of the outcome of his Myanmar visit, stressing that he was attempting to contribute to preventing an armed conflict and civil war through ceasefires and provisions of humanitarian assistance to be enabled without any discrimination.
"It means those who are against ceasefires want deaths and injuries due to war," Hun Sen wrote. "Those who oppose provisions of humanitarian aid want people to die due to starvation and having no medication and vaccines against the spread of COVID-19."
He also pointed out that, moving forward, ASEAN and its partners as well as Myanmar itself will have a lot of work to do to ensure that the ceasefire is observed and aid is provided effectively.
At the press conference on Jan. 8, Sokhonn said that he remains confident that results obtained, whether big or small, are worth celebrating.
"We need to achieve anything we can get first," he said. "It is just like harvesting fruits from a tree. We need to pick up fruits that are close to us first."
But Sokhonn acknowledged that there still is a long way to go.
Cambodia gains no benefits from helping Myanmar
As the current chair of ASEAN, Cambodia is changing the approach to engage with Myanmar, Sokhonn said, stressing that Cambodia stands to gain nothing from the efforts it is making to help solve the crisis in that country, genuinely wanting to help circumvent a possible tragedy in Myanmar, Sokhonn said.
"We don't get any benefits in term of politics, economics or geopolitics," he said. "However, we [in Cambodia] have experienced tragedy, consequences of a civil war until we could be who we are today."
The foreign minister went on to emphasize that helping Myanmar address its crisis is the duty and responsibility of the current ASEAN chair.
"And it is our duty and responsibility to implement the five-point consensus we already have achieved," he said. "It is also to help as the ASEAN chair and member of the ASEAN family."
Sokhonn added that if Myanmar descended into conflict or civil war, it would affect not only the country but also damage the fame of the regional grouping and its unity.
When asked whether there will be a possible deployment of United Nations peacekeeping forces to assist Myanmar in restoring peace and bring an end to the crisis, Sokhonn responded that the decision is not up to Cambodia but up to the United Nation itself.
"[T]he current situation in Myanmar is not so dire that it requires those kinds of intervention," Sokhonn said. However, he explained, as he had mentioned earlier, the crisis in Myanmar had all the ingredients of a civil war, but that didn't mean it had already plunged into one. "It is just having the risk of moving in that direction," he said. "That is why we have to work on preventing it from reaching that state."
Related Articles