Former CNRP Commune Chief Arrested While Leaving for Germany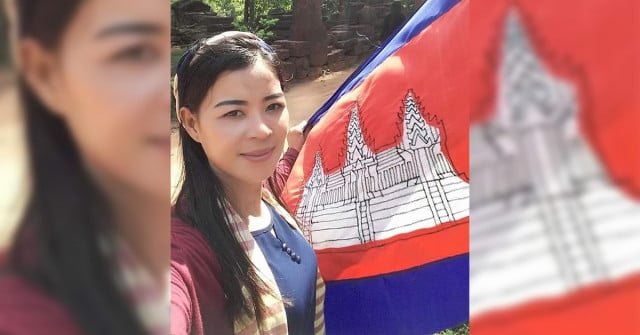 PHNOM PENH – Kim Tola, a former Commune Chief of the dissolved Cambodia National Rescue Party (CNRP) from Kampong Speu province, was arrested on Oct. 30 at the airport over an incitement conviction from August 2022.
She was sent to Phnom Penh's Prey Sar Prison the following day.
Ket Khy, an attorney representing Tola, said her client was stopped by the immigration police at the Phnom Penh International Airport while she was waiting for her flight to meet her husband in Germany.
The next day, the Phnom Penh Municipal Court ordered the police to send her to jail after the General Commissariat of National Police had brought her from the airport, Khy said.
Tola, who is a former CNRP commune chief in Traeng Trayueng commune, Phnom Sruoch district, Kampong Speu province, faced incitement charges in July 2022 along with other ex-CNRP members and supporters, for Facebook posts from 2018 and 2019 criticizing Prime Minister Hun Sen and King Norodom Sihamoni.
She was convicted in absentia the following month to a year and a half in jail for incitement to disturb social security, along with the others.
Nevertheless, Tola did not know about the court's judgment, Khy said.
Following August's conviction, her name was blacklisted, which allowed airport officials to figure out she was wanted when they inspected her passport.
"Because the court ordered to arrest Tola based on the judgment, she was stopped by the authorities immediately at the airport when they saw her name," said Khy.
According to the attorney, Kim Tola is not the only wanted person. The list also includes other CNRP officials, such as Long Ry and Men Sothavrith.
It is the second time that Kim Tola is arrested over an incitement conviction.
The first time was in July 2021, when she was convicted of one year in jail for supporting the return of the exiled CNRP leader, Sam Rainsy, to Cambodia in 2019 – which failed.
However, after she appealed the case, her sentence was reduced to three months.
Y Rin, a spokesman at the Phnom Penh Municipal Court, could not be reached to provide any further information whilst Sous Vichearandy, deputy chief of the secretariat of administration at the Phnom Penh Municipal Court, did not know about Tola's recent arrestation.
Originally written in Khmer for ThmeyThmey, this story was translated by Meng Seavmey for Cambodianess.
Related Articles