Former Opposition Leader Kem Sokha Visits Provinces for First Time Since Arrest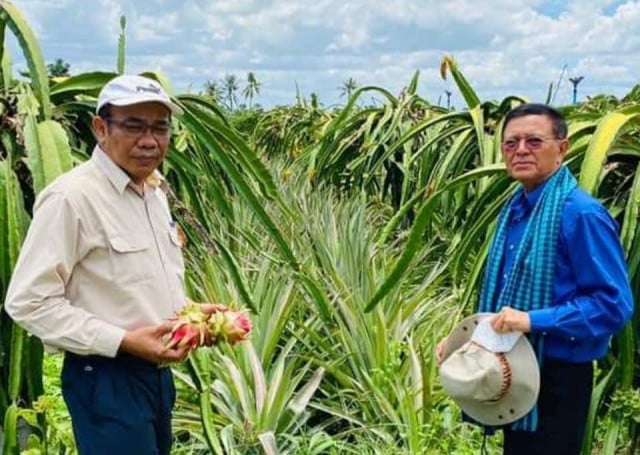 Romdoul Chetra
July 6, 2020 8:21 AM
Kem Sokha has traveled outside of Phnom Penh for the first time in years, paying a visit to the dragon fruit plantations of Tbong Khmum province, but treason charges still loom overhead.

PHNOM PENH--Former opposition leader Kem Sokha has left his home for the first time since his arrest in September 2017. He has spent this trip visiting dragon fruit plantations in Tbong Khmum province, according to Chan Chen, his lawyer, who posted some of Kem Sokha's pictures onto Facebook on July 5, 2020.

Chan Chen confirmed that Sokha's first visit out of his home would have no effect on the legal proceedings filed against him. Sokha was arrested in 2017 and charged with treason in the run-up to the 2018 national elections. Given that Sokha's party, the Cambodia National Rescue Party (CNRP) was largely regarded as the only credible opposition party, observers both in Cambodia and internationally regarded the charges as bogus and politically motivated.

"I would like to explain the law to those who do not know or who pretend not to know. Kem Sokha is not a prisoner or convicted of treason by a court and there is no law currently prohibiting Kem Sokha from going out. They were forbidden to go abroad only. So going out of the house and anywhere in the country, these are still Sokha's rights," said Chen.

On Nov. 10, 2019, the investigating judge of the Phnom Penh Municipal Court canceled a two-point ban on Sokha's activities and lifted restrictions that prevented him from leaving his house and banned him from meeting with any former CNRP officials or foreigners involved in his court case.

Spokesman for the Ministry of Justice, Chin Malin, said that Kem Sokha can go out anywhere in Cambodia and is free to meet people, but noted that these meetings must not be political.

"In terms of visitations or greetings where there is no political intention or discussion of political action plans, then it is ok," he said.

It was almost three years since Sokha has traveled within Cambodia, following his arrest on September 3, 2017. He was jailed in Trapaing Phlong Prison for one year before being transferred to house arrest in 2018. Following the November 2019 lifting of restrictions, Sokha has had a steady stream of visitors—mostly foreign diplomats.

Sokha did briefly venture out of his home on May 5, 2020 where he paid tribute to Prime Minister Hun Sen's mother-in-law, Bun Seangly, who passed away. The funeral was held at Hun Sen's house where he and Sokha were photographed talking candidly.

While Sokha's appearance at the funeral in May 2020 prompted some onlookers to suggest that relations between the long-time political rivals may be improving, Sokha's trial remains ongoing and has suffered numerous delays due to the Coronavirus Disease 2019 (COVID-19) pandemic.


Related Articles