Fossil Bone Points to Link with Dinosaurs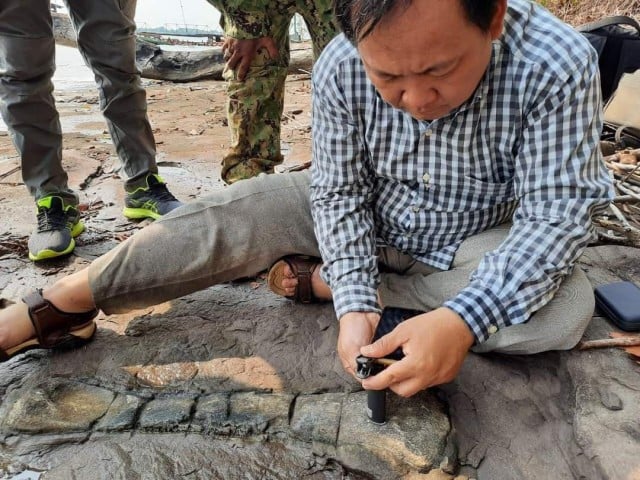 Po Sakun and Phoung Vantha
March 12, 2021 1:43 AM
Archaeologists to seek advice from foreign experts to identify the animal
PHNOM PENH--Archeologists from the Environment Ministry of Environment are studying a bone fossil aged between 65 million and 190 million years, meaning the animal may have been alive at the time of the dinosaurs.
The fossil, 70cm long and 20cm wide was on Pao Patrol island next to the Tatai Wildlife Sanctuary in Mondol Seima district of Koh Kong province.
Lim Vanchan, of the fossil study team of the ministry's heritage section, said it was the first animal fossil bone buried in rocks found in Cambodia.
However, it has not yet been determined what animal the bone was from.
Vanchan said that according to the geological map of the area where the fossil was found, the fossil is from the Mesozoic Era (65 million-190 million years ago), denoting that it may be from an animal that lived while the dinosaurs were alive.
"We have not taken the bone yet, we have kept it there with the protection of the Department of Environment there," he said.
Vanchan said the team lacked zooarchaeology resources, so it needed to find foreign experts in Thailand or Europe as partners.
Geologically, the bones are in sandstone about 30 to 40 meters below the level of the rock in the islands and surrounding mountains. The fossil has been exposed by water erosion.
It was found next to the water's edge and is visible when the tide is out.
Related Articles