Four Endangered Bantengs Killed by Hunters in Cambodia This Year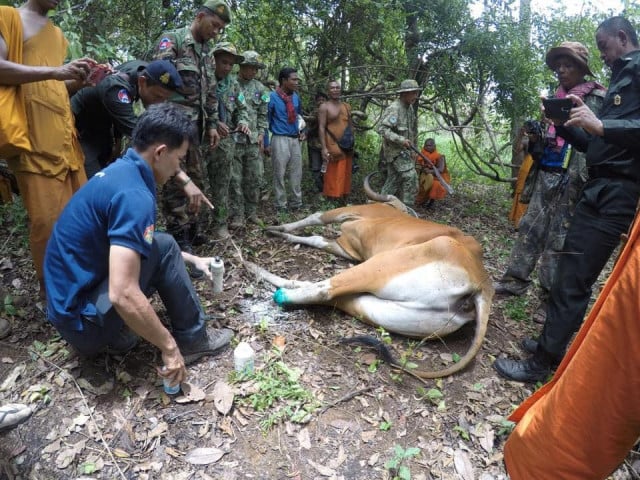 Phoung Vantha
May 25, 2020 4:39 AM
The Ministry of Environment calls on people to protect and preserve Cambodia's wildlife, particularly endangered species.

PHNOM PENH--In early 2020, four bantengs died from trapping and shooting, while the Ministry of Environment continues to call on people to conserve wildlife, said ministry spokesperson Neth Pheaktra on May 25.

A male banteng died in the Monks Community Forest in Oddar Meanchey Provincial Wildlife Sanctuary on May 24, because of hunter' traps. The 18,261 hectare forest has been protected by monks since 2008 in response to endemic illegal logging, land concessions and land encroachment.

Ministry spokesperson Neth Pheaktra said that a male banteng died of serious injuries caused by a hunter's trap, despite the best efforts of livestock experts and officials to save its life.

In the first five months this year, four bantengs have been found dead. One was found in Kampong Speu province, killed by a trap, and two were found shot dead in Mondolkiri province. The last one just died in a hunter's trap in the Sanctuary of Preah Vihear Wildlife Sanctuary.

Pheaktra expressed his regret over the loss of this rare species because of the cruelty of the hunters. He urged all stakeholders to continue enforcing more stringent laws against perpetrators.

According to data provided by the Ministry of Environment, the population of bantengs in Cambodia is estimated to be somewhere between 2,700 and 5,700. This makes Cambodia home to one of the largest populations of bantengs in the world—with the global population of the species thought to range between 5,900 and 11,000, Pheaktra said.

However, the International Union for the Conservation of Nature (IUCN) suggests that the population of bantengs is decreasing, with data from 2014 identifying just 4,000 to 8,000 mature bantengs globally. They have subsequently been placed on the IUCN's Red List as an endangered animal.

Pheaktra said the Ministry of Environment manages the protection and conservation of the natural resources and wildlife present in the 30,254 hectare protected areas of Anlong Veng village, Chong Kal commune, Samrong districts of Oddar Meanchey, including Monks Community Forest led by Bun Saluth.

Pheaktra said although members of the community forest, including Bun Saluth, the chief of Monks Community Forest, along with provincial authorities, rangers have been delivering outreach programs to educate the people on how to conserve natural resources and conserve wildlife, but participation remains limited.


Related Articles