Four Endangered Eld's Deer Detected in Cambodia for the First Time in Five Years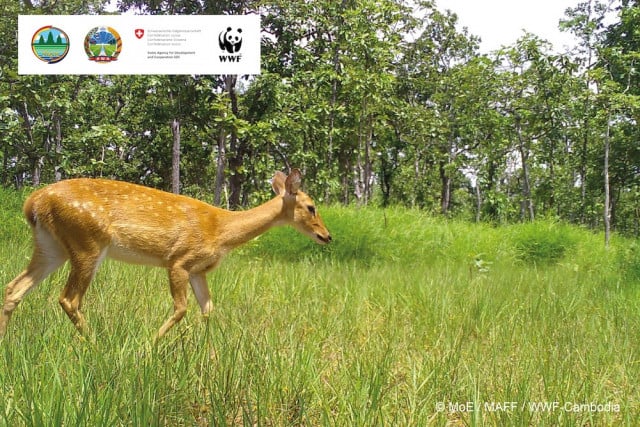 Sao Phal Niseiy
September 24, 2020 11:02 AM
Nearly 2,000 photos taken by camera traps had to be studied in order to spot them
PHNOM PENH--Four greatly endangered Eld's deer (Rucervus eldii) have been detected in the country for the first time in five years, according to World Wide Fund for Nature (WWF).
"We are very excited about this discovery," said Eam Sam Un, biodiversity research and monitoring manager with WWF, according to a statement on Sept. 24.
The four Eld's deer—three adult females and one juvenile—were photographed by camera traps that were placed in the Sambor Wildlife Sanctuary supported by WWF in the Mekong Flooded Forest Landscape.
According to the statement, the announcement of the discovery of the greatly endangered Eld's deer came after studying around 1,710 photographs taken in August and this month by camera traps in a total area of 50,093 hectares of the sanctuary.
"The photographs provide evidence that our conservation efforts are paying off, raising hopes for the protection of the animal in the country and region," said Seng Teak, WWF country director.
Eld's deer is listed as endangered in both Cambodia's Forestry Law and on the International Union for Conservation of Nature Red List (IUCN) of Threatened Species. The 2015 IUCN report had indicated that there remained less than 700 Eld's deer globally with a small subpopulation in Cambodia's protected forests. The declining of Eld's deer population, according to WWF, is due to some main factors such as habitat loss and poaching.
In addition to the finding of the Eld's deer, the photos also showed some other species including the red muntjac, the wild pig, the small Indian civet, the common palm civet as well as large bird species such as the endangered green peafowl and vulnerable lesser adjutant, according to the statement.
Related Articles