Four Members of a Cambodian Family Become the Country's Latest COVID-19 Cases
Phoung Vantha and Sao Phal Niseiy
March 28, 2020 5:02 AM
While two more patients recover from the disease

PHNOM PENH— The Ministry of Health has identified four new cases of Coronavirus Disease 2019 (COVID-19) in Phnom Penh, bringing up to 102 the number of cases in country, the ministry announced Saturday morning (March 28).
According to Or Vandine, a spokesperson for the Ministry of Health, the four new cases are members of a Cambodian family who had travelled to France and just returned to the country on March 15. They consist of a 62-year-old man, his 61-year-old wife, their 39-year-old son and 37-year-old daughter
"They all have been placed under a quarantine at Chak Angre Krom Hospital," Vandine said. This referral hospital is located in Phnom Penh's Meanchey District.
While these four new cases were reported on March 26, Vandine said, "there was no new report of infection on [Friday] March 27."
Moreover, she said, two COVID-19 patients in Phnom Penh and Banteay Meanchey province have made a complete recovery, bringing the total recoveries in the country to 13 as of Saturday morning (March 28).

Detained Chinese nationals

Vandine also said that two Chinese nationals in Svay Rieng Province have tested negative for the COVID-19 and were allowed to leave the hospital.

"Among 174 Chinese nationals, who arrived in Cambodia from the Philippines on March 24 aiming to continue their journey to China on March 27, two people had been found to have a fever," she said. "The result from the Pasteur Institute in Phnom Penh indicated that both of them had no COVID-19."

Vandine was referring to a group of Chinese nationals who were detained and kept in isolation in Bavet City since March 24 in an effort to prevent the spread of the Covid-19.

On March 25, Provincial Administration Director Ros Pharith said that the Chinese nationals had travelled by bus from Phnom Penh to Bavet City to find accommodation, but that hotels had not allowed them to rent rooms. They have been detained, housed and fed at city hall while the authorities, with the support of the Chinese Embassy, look into their situation.
Related Articles
September 6, 2022 9:51 AM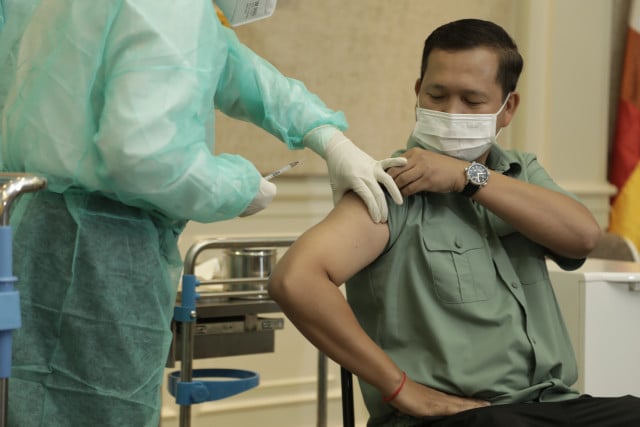 February 10, 2021 4:09 AM