Four Quarantined in Siem Reap, 40 More Told to Isolate and Monitor Symptoms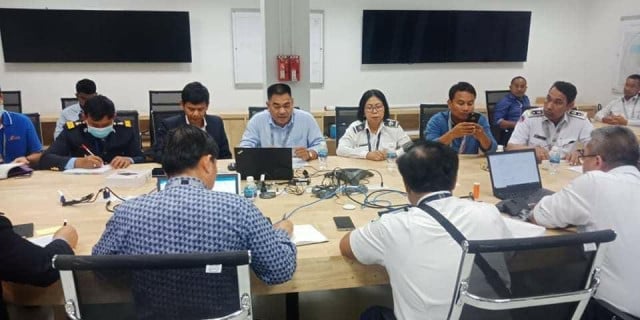 Phoung Vantha
March 5, 2020 10:39 AM
The Ministry of Health has identified 44 individuals who came into contact with the Japanese national who tested positive for the coronavirus after flying from Siem Reap to Japan.

PHNOM PENH--Following a lengthy press conference, the Ministry of Health announced Thursday that they have identified 44 individuals that came into contact with the Japanese businessman who tested positive for the coronavirus when arriving in Nagoya, Japan from Siem Reap on March 3.

The health ministry said that they are still searching for more people who may have been in touch with the Japanese national, having found and quarantined four people thought to have been in direct contact. These four are undergoing a 14-day quarantine period in an unnamed Siem Reap hospital.

Speaking at a press conference on Thursday, spokesperson for the Ministry of Health, Or Vandin declined to give more details on the four in quarantine so as to protect their privacy.

A further 40 unidentified individuals who authorities believe have come into indirect contact with the infected Japanese man have been identified and instructed to self-isolate. The health ministry has asked them to monitor their health while in isolation at home and report to doctors if they develop symptoms.

"We identified four direct contacts and approximately 40 indirect victims who required them to be 14 days in isolation and follow-up of symptoms to be urgently diagnosed, till they have no symptoms," said Dr. Ly Sovann, spokesperson for the Ministry of Health.

The Japanese national is thought to have arrived in Cambodia on Feb. 16 but has since traveled through Vietnam and the Philippines. The 40-year-old Japanese businessman apparently visited a hospital in Cambodia for a check-up, but according to the Cambodian Embassy in Japan he did so without giving his name. The hospital he allegedly visited was also not named in the statement released on Thursday through Minister for Information Khieu Kanharith's Facebook page.

On March 3, the Japanese man flew to Ho Chi Minh City, Vietnam aboard Vietnam Airlines flight VN814, but caught a connecting flight to Nagoya, Japan. According to reports from Vietnamese local media, the man reported symptoms of fever onboard the flight and tested positive for COVID-19 when he arrived in Japan.

Vietnamese local media has reported that health authorities had located the five passengers aboard Vietnam Airlines flight VN814 from Siem Reap who disembarked in Ho Chi Minh City. One Vietnamese national is in quarantine, but three French nationals had already boarded a connecting flight for Bangkok, Thailand and one Australian national reportedly flew to his home country the same day.

The Japanese Ministry of Health has not officially announced that case yet, Siem Reap Provincial Hall said.

According to the Ministry of Health there is still no confirmed cases of the coronavirus in Cambodia as of March 5.
Related Articles
November 23, 2019 8:46 AM
November 22, 2022 4:05 PM