Free City Buses in High Demand During Khmer New Year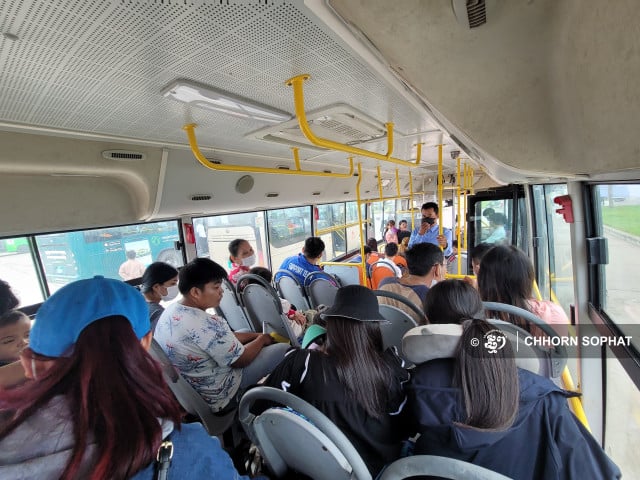 PHNOM PENH – A total of 46,000 people rode a public city bus during the Khmer New Year, according to the capital city public transport organization Phnom Penh City Bus. It helped them reduce travel expenses to visit their hometown or tourist destinations during the holiday.
From April 13 to 17, the Phnom Penh Administration provided 345 buses to transport people for free. While 70 of them were allocated to city traffic in the capital, 275 were available to transport people from Phnom Penh to the provinces.
Siem Reap was the number-one destination with approximately 17,000 round-trip passengers.
Phnom Penh City Bus Governor Keo Channarith said a lot more people used the service this year compared to last year, even though he did not provide data on 2022 Khmer New Year free-of-charge trips.
"The only thing that we want is to provide good services to citizens, and we received good feedback from them," he said.
"My team and I are happy to help people reach their destination safely," he added. "Providing safety, comfort, and hygiene is the principle of the Phnom Penh City Bus."
Phnom Penh Governor Khuong Sreng said that the public bus service helps reduce the cost of transportation, especially when private transportation companies increase their prices due to increased demand.
Socheath, a user who traveled to her hometown of Siem Reap, said this is the third time she uses the free bus service set up by Phnom Penh municipality. She stressed that the service is good and safe, in addition to being free.
No incident was recorded and every bus reach its destination.
Keo Channarith said that mobile mechanics were deployed along the main itineraries to help in case a bus had a problem on the road.
Originally written in Khmer for ThmeyThmey, this story was translated by Te Chhaysinh for Cambodianess.
Related Articles