French Aid for Irrigation Restoration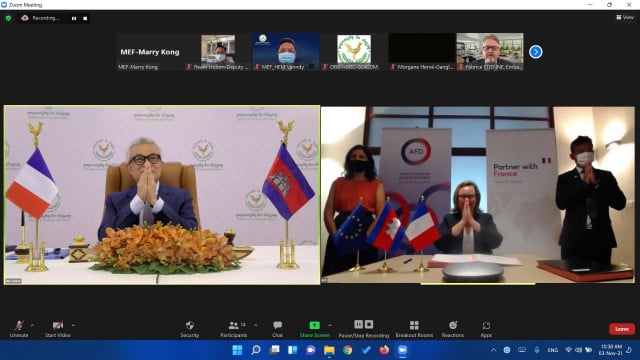 November 4, 2021 11:36 AM
Flood-damaged canals and reservoirs to be repaired
PHNOM PENH--The French Agency for Development (AFD) has loaned more than $23 million to help restore irrigation systems in Battambang and Banteay Meanchey provinces that were affected by the 2020 floods.
The Ministry of Economy and Finance said that in Battambang province, rehabilitation would take place at Kamping Puoy reservoir in Banan district, Pheas reservoir in Ek Phnom district and in eight canal systems.
In Banteay Meanchey province, rehabilitation would take place at Ta Dok dam, Ang Krut dam, Ang Steung dam, Anlong Trach dam, Bantat bus Dam, Pram Temple dam and two canal systems.
During the signing ceremony, Minister for Economy and Finance Aun Pornmoniroth said this financing program is a clear response to the priority of the development and recovery of the Cambodian economy after the Covid-19 crisis.
France has not only been actively involved in bringing peace to Cambodia but has always provided technical and financial support for the country's development, he said.
AFD has also agreed to grant $350,000 for a feasibility study for the Svay Chek River restoration and management project in Banteay Meanchey province.
A Ministry of Agriculture, Forestry and Fisheries report on Oct. 25 said natural disasters had affected rice farms, of which 34,379 hectares were affected by drought and 40,974 hectares by floods.
Related Articles