Fresh Calls for Sanctions against Cambodia from U.S. Lawmakers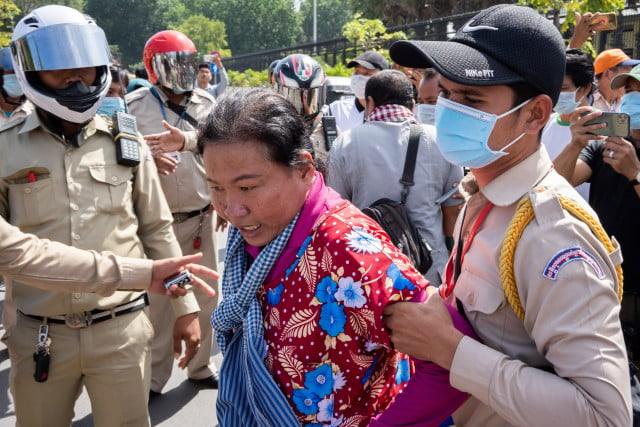 Phoung Vantha and Gerald Flynn
November 20, 2020 3:37 AM
Cambodia's trade privileges could be on the line as a bipartisan group of US legislators call for targeted sanctions against government officials they say are causing human rights abuse, along with a review of Cambodia's access to the US' Generalized System of Preferences.
PHNOM PENH--Eight US lawmakers wrote to US Secretary of State Mike Pompeo on Nov. 16, calling for tougher sanctions on Cambodia over the ongoing crackdown on free speech that has seen a slew of activists, environmentalists, journalists, artists and critics targeted and arrested.
The letter, signed by senators and congressional representatives from both the Republican and Democratic parties, called for a review of Cambodia's tariff privileges and for senior Cambodian officials to be sanctioned under the Global Magnitsky Act.
"Dozens of opposition leaders and critics of the government have been targeted for criminal charges and arrests, and since the outbreak of the COVID-19 pandemic, the government has ramped up its crackdown on dissent by adopting repressive laws and arresting more dissidents and opposition members," the letter reads.
The US politicians went on to list notable activists who have been arrested or detained over the course of the year, including prominent unionist Rong Chhun, Mother Nature activists Thun Ratha, Long Kunthea and Phoung Keo Reaksmey, before noting that more than 20 former opposition party officials have also been arrested.
"The US government must respond in concert with its allies to send a strong message to Hun Sen that his crackdown on opposition and freedom of speech is unacceptable," the lawmakers wrote, adding that only strong pressure was likely to change the behavior of the Cambodian government that, they warned, is no longer responding to ordinary diplomatic engagement.
In 2019, Cambodian exports to the US were valued at $5.4 billion—up 40.7 percent from 2018—with garments, footwear and travel goods making up $3.68 billion, that is, 68 percent of Cambodia's total exports for the year. A large number of Cambodia's exports benefited from the US' Generalized System of Preferences (GSP)—a trade program similar to the European Union's Everything But Arms scheme.
While the European Commission partially withdrew Cambodia's trade privileges over human and labor rights abuses in August 2020, the GSP still guarantees duty-free exports on some 5,000 items. Cambodia became a GSP beneficiary country in 1997, with exports to the US growing exponentially since.
However, such benefits may soon be lost as the rift between Washington, DC, and Phnom Penh grows over human rights, free speech, democratization and Cambodia's growing reliance on China. While the Nov. 16 letter is the latest call from US lawmakers to rescind Cambodia's preferential duty-free access to the US market, it is not the first.
Previous Sanctions Scuppered
It was in February 2018 that the Cambodia Accountability and Return on Investment Act, known as the CARI Act, was introduced in the US in response to the Cambodian government's dissolution of the opposition party, the Cambodia National Rescue Party (CNRP), in 2017 and the jailing of its leader Kem Sokha.
"Democracy is dead in Cambodia today because the Cambodian government is under the influence and control of China," US Senator Lindsey Graham said at the time. "The Cambodia Accountability and Return on Investment (CARI) Act I introduced with my colleagues builds on the State Department's forceful response to China's attempts to colonize that country."
While enjoying support from both sides of the political aisle, the CARI Act—which largely called for visa bans and asset freezes of Cambodian government and military officials found to be involved in rights abuses—passed the House of Representatives, but has been stalled in the US Senate since May 2019.
Similarly, going after the overseas assets and visa eligibility of senior Cambodian leadership, the Cambodia Democracy Act—also introduced by both Republican and Democrat lawmakers—passed the lower house on July 15, 2019.
"Those who have perpetrated grave human rights abuses or undermined democracy in Cambodia should lose access to the US financial system," said US Senator Ed Markey in January 2020. "The Hun Sen government must know that the world is watching as it cracks down on civil society, opposition leaders, and journalists, including former employees of Radio Free Asia."
However, while being read twice in the US Senate in July 2019, the bill was largely forgotten as the US geared up for another election cycle, which largely consumed the legislative process.
Cambodia's Trade Privileges at Risk in the US
"This is a moment of change in the US," said Sophal Ear, an associate professor of Diplomacy and World Affairs at Occidental College in Los Angeles. "This was a bipartisan letter. [Congressman Ted] Yoho signed it on the Republican side. They're putting down trade as something that ought to be looked into and this is freaking out the US-ASEAN Business Council."
Ear argued that both the CARI Act and the Cambodia Democracy Act could now be back on the table once the transition of administrations is completed, adding that Cambodia was already in the State Department's crosshairs due to the level of Chinese influence and that human rights abuses along with issues pertaining to democracy would merely pile on top of these security concerns.
Tougher US sanctions against Cambodia are more likely in 2021 than they have been in the last four years, Ear said, particularly with regard to trade privileges, which he noted had previously been off the table when considering sanctions.
"GSP seems to have been the line, but I think it's at risk now, and that's why lobbyists and the US-ASEAN Business Council are freaking out," Ear wrote in an email. "Sacred cows like GSP make the best hamburger. [President-elect Joe] Biden will be more likely to be swayed by democracy arguments than [President Donald] Trump ever was. Trump was like a bull and China was his red mulita."
The lobbyists Ear referred to include two US lobbying firms. Brownstein Hyatt was paid $720,000 by the Cambodian government for a one-year contract to push back against the threat of US sanctions. While Brownstein Hyatt's contract was scheduled to end in February 2020, the firm was lobbying for the Cambodian government until at least July 2020.
Likewise, a second group of lobbyists at PacRim Bridges were paid $500,000 for a one-year contract in March 2019, seemingly for consulting work, along with lobbying against sanctions from within the US.
Ear added that these lobbyists are always on retainer and that their effectiveness cannot be underestimated.
"They are using the money of the Cambodian people to suppress the Cambodian people's freedom, human rights, and democracy," said Ear. "This is the Cambodian equivalent of blood diamonds."
However, the efficacy of said lobbyists is perhaps questionable as three senior-ranking Cambodians that is, General Kun Kim, Oknha Try Pheap and General Hing Bunheang have been sanctioned by the US under the Global Magnitsky Act since 2018.
A Chinese developer believed to have committed human rights abuses in Cambodia was also sanctioned in September 2020, prompting further outrage from Prime Minister Hun Sen.
Adding to the diplomatic pressure on Phnom Penh, on Nov. 17, the US Embassy in Phnom Penh issued a statement via its official Facebook page stating that the US is closely following court cases targeting civil society activists, journalists and supporters of the Cambodia National Rescue Party.
"Freedoms of association and expression, and tolerance of dissenting views, are vital in a genuine democracy," the embassy wrote. "We urge authorities to protect these freedoms, as enshrined in Cambodia's constitution, and to take meaningful steps to reopen civic and political space in the lead-up to 2022 commune elections and 2023 national elections."
Cambodia Shrugs Off Threat of Sanctions
Apparently unfazed by the threat posed by Magnitsky sanctions, Cambodian People's Party Spokesperson Sok Eysan said that such measures would not affect the lives of senior government officials, but would instead affect the Cambodian people.
Actually, the Magnitsky sanctions specifically target the wealth, assets and visa eligibility of individuals known to commit human rights abuses and prevent US companies—including US banks—from doing business with sanctioned individuals.
Eysan went on to play down the threat of US sanctions, saying that it is the right of the US to sanction as it pleases, but that the handover from outgoing President Donald Trump may mean that addressing the situation in Cambodia is not a priority.
"It's not the first time," he said in a telephone interview. "Since 1979, after the Khmer Rouge regime collapsed, some nations have imposed sanctions on Cambodia, while Cambodia's economic fundamentals have not been strong and people have eaten only corn or rice. But now we eat pizza, we eat hamburgers, so I think it's not effective to impose sanctions."
He then repeated claims previously made by the government to the effect that the current crackdown is about preventing an overthrow of the Cambodian government by rebel groups and is not targeting activists or human rights defenders.
Similarly, Justice Ministry Spokesperson Chin Malin responded to the US Embassy, saying that if they had evidence in the cases of detained activists, then they should provide it to the Cambodian courts.
"Legal matters are to be resolved legally and do not depend on asking for forgiveness or tolerance," he said.
Malin then said that, legislatively, Cambodia and the US are comparable in their respect for the rule of law and that those who break the law should defend themselves in court, not by organizing protests.
He went on to claim that Cambodia's courts are independent institutions, despite the de facto requirement for judges to be members of the ruling Cambodian People's Party, which currently has total control over all branches of government.
Balancing Human Rights, Democracy and Chinese Influence
Echoing Ear's predictions on the now-dormant CARI Act and Cambodia Democracy Act, former deputy leader of the Cambodia National Rescue Party Mu Sochua said that, now that the US election was finished, such legislation will be reactivated.
"Cambodia's image is tarnished and long-term investors who are serious and must abide by the rules and regulations of their own governments will need to rethink," she said in a telephone interview. "The Global Magnitsky Act has implications on investments."
When asked whether she felt there was a need to strike a balance between Chinese influence in Cambodia and the ability of the US to pressure the Hun Sen government into respecting human rights and democratic norms, Sochua said that it's a catch-22 question that is asked too often.
"China is already in Cambodia and will work with whoever is in the government," she replied. "Therefore, all must be done to give the people the right to elect the leaders and who will put the interests of the people and the nation first."
The notion that people need the right to choose their leaders was also brought up by Sophal Ear, who noted that while Cambodia's international image may have suffered in recent years, so too had that of the US over the past four years.
The US has now led by example in electing Joe Biden rather than a "would-be dictator" and has subsequently proven that elections work, Ear said. He added that Trump's four-year rule in the US has impacted the country's ability to promote democracy abroad.
"American democracy works because it got rid of Mad King Trump," Ear said. "So the US can speak credibly again, and will very soon. You have to hit rock bottom with a guy like Trump to show that the guardrails of democracy work: The people chose a new president.
"He will be gone by Jan. 20, 2021, "Ear said. "As an example, this works even better than if we never had Trump: It tells people around the world that, with all its faults, democracy is still the worst form of government except for all those other forms that have been tried from time to time."
Related Articles