Fresh Ideas Offer Boost to Cambodian Tourism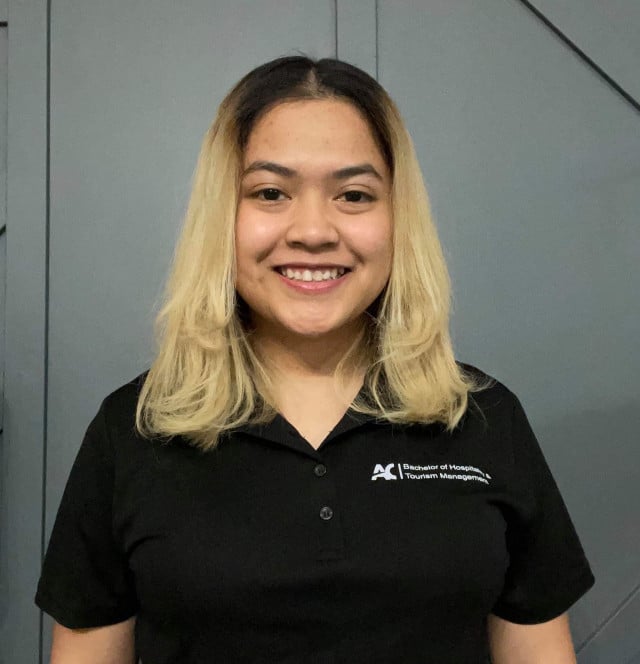 Choeun Sreynoy
April 2, 2021 10:12 AM
Canadian studies give chance to build hospitality industry

Siv Ekapsor loves travel and adventure. So, after high school, she decided to study hospitality and tourism management in Canada. Born in Takeo province, Ekapsor, who is currently a sophomore student at Algonquin College, hopes to learn more about other countries' culture and explore tourism in depth. Most of all, she wants to help raise tourism standards in Cambodia. She spoke to Thmey Thmey's Choeun Srenoy.
Choeun Sreynoy: Why did you choose to study tourism and hospitality?
Siv Ekapsor: For several reasons. First, I am passionate about travel and adventure which are both aspects of tourism. Tourism is a broad sector that connects countries and cultures and plays a central role in every country's economy. It helps individuals learn and share more about different cultures.
Learning about tourism will help me understand more about globalization. Like hospitality, tourism plays an important role in every country's economy, especially for a developing country like Cambodia which needs to develop more of this sector to help its economy grow.
Many countries rely on hospitality and tourism to develop their economies and stay connected to the world. I chose to study this program to help make changes and bring the hospitality and tourism industry to the next level of development in my country.
Choeun Sreynoy: Why didn't you study this major in Cambodia? What do you think is the difference between taking this major in Cambodia and in Canada?
Siv Ekapsor: I chose to study abroad because, from what I knew, hospitality and Tourism education in Cambodia is still limited.
I have a few friends studying the same field as me in Cambodia and there are many differences when I compare what we learn from university in Cambodia and what we learn in Canada.
From my point of view, universities in Cambodia focus more on theoretical learning while in my college we are more likely to study practice and theory together.
What I mean by practical learning is that in our program the school allows students to do a lot of practical-related courses such as food and beverage service and operation, event planning and culinary aspects.
Students get to learn all these courses in a practical way. Learners get involved in real-life events to meet and talk to many senior professionals such as general managers, directors, senior managers from different hospitality and tourism companies, and organizations from all around the country.
In all these skills, universities in Cambodia have not yet found a way to improve and develop their hospitality and tourism education. That is why there is a lack of skill in this industry to help develop hospitality and tourism in Cambodia.
Another reason for studying abroad was because it would be a greater opportunity to gain knowledge from a different part of the world and to see a different aspect of this program.
Especially, hospitality and tourism is a universal economic and business sector that requires students to understand and learn the industry from a different point of view. In addition, I get to explore and travel the world, understand different types of culture, languages and challenges in life. Studying in a First World country provides me with a greater quality of education and career opportunities.
Choeun Sreynoy: What are the difficulties you face while studying tourism and hospitality?
Siv Ekapsor: The challenge for me is that I need good communication skills and be well connected with everyone around me. Communication is a bridge to get into the hospitality and tourism industry. To be successful in this industry, I must become outgoing and flexible. I have to deal with a lot of communications and problems at the same time. Hospitality and tourism is not a hard program but it is complicated because I have to deal with people and manage to solve all the problems I face in this industry.
Choeun Sreynoy: What are your goals after you graduate?
Siv Ekapsor: After graduation, I am looking forward to sharing all the knowledge and skills that I have learned to help develop the tourism industry in Cambodia.
I noticed that the number of tourists is increasing in Cambodia but in the hospitality and tourism system, there is still insufficient skill practice and there is a small range of training schools.
There is a shortage of skilled tourism professionals while we all know that tourism is important in Cambodia. So, I think it is time to change and raise our hospitality and tourism skills to another level. All these improvements will drive an increase in business and economic activities in Cambodia.
Related Articles