Freshly Released from Prison, Activists Vow to Continue their Work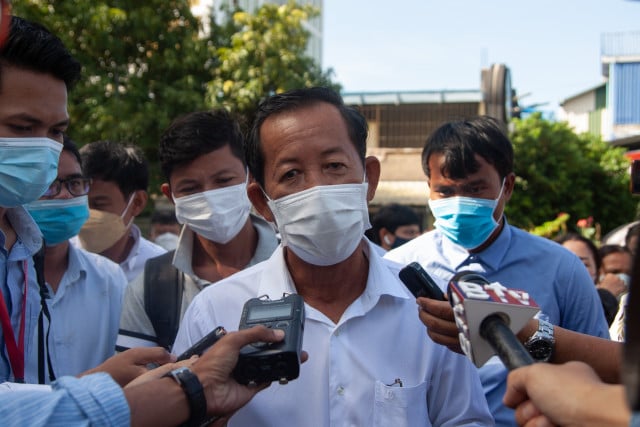 November 23, 2021 4:40 PM
Rong Chhun, Khmer Thavrak, Mother Nature, the Friday Women and other activists gathered to call on the government to drop charges against the recently freed activists and allow them to do their work
PHNOM PENH--On the morning of Nov. 23, a handful of activists who had recently been released from prison pledged to continue their work while stood in a petrol station forecourt after the café that had initially agreed to host their impromptu press conference cancelled the reservation on the grounds of COVID-19 risks.
Flanked by journalists and continuously filmed by plain clothes security forces, the group of activists was led by veteran unionist Rong Chhun, who was—like the activists surrounding him—freed from prison on probation on Nov. 12. Representatives from banned environmental group Mother Nature joined Chhun along with activists from the youth group Khmer Thavrak and members of the Friday Women, all of whom recently had affiliates released from prison.
Twenty-seven activists were released from prison between Nov. 5 and Nov. 15, having previously been jailed for their political, environmental and social activism—all of which had been peaceful. The sudden mass release of jailed activists invited plenty of speculation.
Analysts were quick to point to Cambodia's imminent role as chair of ASEAN for 2022, along with the forthcoming Asia-Europe Meeting (ASEM) summit taking place in Phnom Penh this month, as reasons for the government to clean up its international image. Others suggested that access to the US' Generalized System of Preferences—which is currently under review and has recently changed its criteria to include human rights reviews—may have tipped the scales.
But the Ministry of Justice was keen to quash such speculation, claiming that it was merely a coincidence of court procedures that multiple high-profile activists were released from prison within such a short span of time. Chin Malin, the Justice Ministry's spokesperson, previously stressed that the terms of their probation meant that the newly-free activists could be jailed again at any time.
Whether this threat was taken to heart by many of the activists now out of prison was unclear, but the press conference, called less than two weeks after the mass release by the Cambodian Independent Teachers' Association (CITA) where Chhun once served as president, indicated that many activists would return to their work immediately.
Immediately challenging the government's narrative over his release, Chhun said that he and other activists were only free due to the political pressure Cambodia stood to face at the coming ASEM summit being held in Phnom Penh from Nov. 25 to Nov. 26.
"It's normal, leaders or ordinary people always want a reputation of honor," Chhun said. "As guests from the EU and other democratic countries will come to the meeting and will be asking about the human rights situation, so Cambodia's leader—to avoid all those questions—needed to release us."
Chhun, who was jailed on July 31, 2020 for his comments regarding land discrepancies in the demarcation of the Cambodia-Vietnam border, said that freedoms have declined drastically in Cambodia since 2017 and that the rights of activists were growing narrower day by day.
"If we look at the charges against me, I'm just commenting, and other young activists were just exercising their freedoms in relation to my case because they saw it as an injustice. They just gathered to call for releasing me, authorities arrested them," he said, in reference to the peaceful protests that kicked off in response to Chhun's arrest, which in turn led to more arrests.
Chhun went on to say that as a citizen of a democratic country, he will continue to participate in the development of society and work towards the protection of human rights. The courts, he added, should drop the charges against him and all activists who he said had not committed crimes, but had instead worked for society.
Hun Vannak of Khmer Thavrak, who was among those activists recently freed, called his Aug. 13, 2020 arrest "arbitrary" and said that it would not stop him from continuing his social work in Cambodia.
"Although we will remain under the supervision of the court for three years, we still have our will and we will continue to use our rights and freedoms as stated in the Constitution—such as freedoms of expression—to fill in the gaps and advocate on rights to promote freedom in our country," he said.
Khmer Thavrak's Koeut Saray expressed his regret, but said he considers his arrest and those of other activists as unwarranted.
"If these were practical transgressions, there would be no need for arrest warrants, however, they [activists] did not commit any crime, [they] only tried to exercise their rights stated in the law," said Saray, who went on to request the courts and Ministry of Justice correct the situation.
"Politicians should not only think of winning or losing, but they should think about national interest," he added, calling for less vindictiveness and more dialogue in Cambodian politics.
Saray called the imprisonment of so many activists "a gross violation of freedoms" and cited the Constitution's granting of peaceful participation in socio-political, economic and cultural development.
"However, the [government] always responds in a negative way, alleging [activism] an act of opposition saying they are illegal acts," he concluded.
The theme of calling for the Justice Ministry to drop charges ran throughout the activists' speeches, as did the request to release them from their probationary restrictions—which include but are not limited to appearing at court as and when summoned, reporting to authorities when changing job, house or moving within the country.
Ly Chandaravuth of Mother Nature also vowed to continue his work to protect Cambodia's environment from corruption and to promote the sustainable use of the nation's natural resources.
"Our work is not the act of plotting," he said in reference to the charges of plotting to overthrow the government that various Mother Nature activists were hit with earlier this year. "The charges against us are excessive accusations, so please, drop all charges against us—we work for the people and the country."
Related Articles