From Loggers to Farmers, Mondulkiri's Communities Turned Away from Forests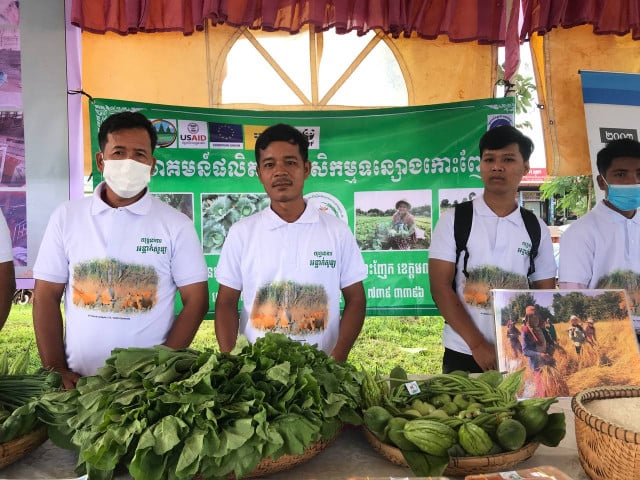 PHNOM PENH – Since an irrigation system was set up in his remote Mondulkiri village four years ago, Morn Samean saw his farming yields increase, reinforcing his impression that he made the right choice when he let go of his former activity, logging.
Residing in A Buon village, A Buon Leu community, Mondulkiri's Koh Nhek district, Samean has now been a farmer for seven years. Prior to dedicating his life to his fields, he was logging timber in exchange for money. He had been in the job for two years when he decided to ditch this unstable occupation in 2014.
"I stopped because it was an illegal job, and I was scared," he said. "The job was risky."
Exhibiting his crops during the Zero Snaring Campaign, which was launched on July 29 in Mondulkiri province, Samean said he grows cucumbers, wax gourds, cabbage-like vegetables, bitter gourds, eggplants, and so on.
However, before being assisted by the Cambodian Rural Development Team (CRDT), an NGO undertaking community development, social enterprise, conservation, and natural resource management projects, his crops have yielded low returns.
In his village, only two hectares are dedicated to farming, shared by 10 families who decided to join the farming project carried out by CRDT. The project is supported by the Ministry of Environment and the World Wide Fund for Nature (WWF).
Samean said that before the irrigation system was set up, he had to fetch the water for his crops, only harvesting 4 to 10 kilograms of vegetables a day. But thanks to the technical assistance provided by CRDT to build the irrigation system, his yields skyrocketed. On the best days, he now sells between 100 to 200 kilograms of vegetables.
"I feel happy that the yield is abundant. When I logged timers, the money I made was hardly enough for my kids to go to school. Since I switched to farming and my crops yield great results, I can earn enough," the man with two kids said.
Leuk Un, a bamboo weaver, in the Sre Preah Community Protected Area located inside the Keo Seima Wildlife Sanctuary in Mondulkiri province, used to fall timber to perpetuate the Bunong tradition of rotating farming. He was also used to trap wild animals for trade.
He, however, gave up the job in 2018 when the Environment Ministry raised awareness about wild animal snaring. "I regret what I did, but in the past, I did not know what else to do besides that," Un said.
Un now weaves bamboo teapots, which he sells 50,000 riels (around $12.5) each. He also farms and has some rice fields.
While launching the Zero Snaring Campaign, Neth Pheaktra, spokesperson of the Environment Ministry, stressed the importance of preserving the forest and protecting wild animals. The ministry strives to improve the financial situation of the local people living around the forest by providing assistance and supporting farming skills.
To assist the people, the ministry and its partners–WWF, the NGO Wildlife Conservation Society (WCS) or development agencies like USAID–have encouraged and promoted the processing of natural resources such as bamboo and provided technical support on farming or rice production, he said.
"[We] develop the economy of the people and prevent them from exploiting the natural resources, by creating jobs for them with the assistance of our partnered organizations," Pheaktra said during the press conference for the launch of the Zero Snaring Campaign in Mondulkiri province on July 28.
Mondulkiri has become the fourth province to join the campaign. This nine-month multi-pronged national program, which began on March 3, has covered the provinces of Stung Treng, Preah Vihear, and Kratie. Kampong Thom and Ratanakiri will join in October.
Sok Nga is a 52-year-old bamboo weaver, coming from a Bunong community living in Pou Kong village, Srae Preah commune, Keo Seima district.
She has been weaving various products, ranging from pen holders, fruit baskets, saucers, and fresh sugar palm juice containers, since March 2022, with the support from WCS. The NGO, involved alongside the Environment Ministry in the Zero Snaring Campaign, is dedicated to the conservation of wildlife and wild places around the world through science, action, education, and inspiring people to value nature.
Prior to weaving bamboo, Sok Nga used to mow the lawn in front of people's houses in the area to earn little money. It was hardly enough for her to support her family. However, she saw some light at the end of the tunnel when WCS came to her village and gave lessons on bamboo weaving to those interested. She took the training and was able to weave after only one week of practice.
To support craftspeople selling their product, WCS is helping them find a marketplace, making sure Sok Nga and the villagers will find outlets for their products.
"I hope that I can make the products for many years to come if there is a market for it," she said. "I don't want the organization [WCS] to be disappointed."
Carbon credits sale contribution
The government's efforts to support local people turning away from exploiting forests' natural resources go hand in hand with its will to generate income through the REDD+ (Reducing Emissions from Deforestation and forest Degradation) framework.
The worldwide scheme aims to reduce global greenhouse emissions by preventing deforestation in developing countries through environmental conservation projects that generate carbon credits, which can in turn be sold or traded to companies, organizations or governments looking to offset their carbon footprint.
Since 2016, Cambodia has earned $11.6 million from the sale of natural carbon credits to major international companies such as Disney Kering Intuit, Shall, and Gucci, Neth Pheaktra said. Keo Seima Wildlife Sanctuary is the first location where Cambodia sold the carbon credit, he said.
Cambodia has embarked on five REDD+ projects in Koh Kong, Preah Vihear, Oddar Meanchey provinces, as well as in Keo Seima Wildlife Sanctuary.
The country, Pheaktra added, is studying the implementation of a pilot carbon credit project in the Stung Treng province's part of the Prey Lang Wildlife Sanctuary, with a Japanese company called "Mitsui".
"Through carbon sales, we can give kids a chance to go to school. The ministry also gives scholarships for students to study at university," he said. "If they don't get an education, they will still live around the area and still profit from their use of natural resources."
Chhay Kimheak, head of REDD+ for the Keo Seima Wildlife Sanctuary of WCS, said the sanctuary community will receive $600,000 from the sale of natural carbon in 2022. This amount has tripled compared to 2021, which only brought $200,000 to the community.
Proceeds from the sale of natural carbon will be distributed to the 20 villages participating to REDD+ in Keo Seima.
"In 2022, the project will bring $600,000 to the community as a result of the allocation of natural carbon sales. However, an agreement must be reached in each village, with some villages receiving $130,000 and some villages receiving $50,000, depending on their use of the forest," said Kimheak.
Strict legal action against forestry crimes
Heng Kimhong, research and advocacy manager for the Cambodia Youth Network (CYN), said the proceeds earned from the natural carbon credit sale contribute a lot to improving many areas in the country, particularly the living condition of the local people.
However, the people, in addition to enjoying the proceeds and assistance, should still be encouraged to take part in protecting the natural resources and wildlife, he said. The government should impose strict legal action on those who commit forest crimes and not only prevent local communities, whose life has been connected to the forest for centuries, from perpetuating their traditional way of life.
"People cannot be cut off from enjoying the forest. They still have to collect fruit or honey," Kimhong said. "The government's effort is to prevent forest crime, not to prevent people from enjoying the forest. I think the government should strengthen the officials in carrying out their duty."
The sustainability of the forest depends on the government's policy with the willingness to protect the forest, he said. Thus, rights should be fully granted to the relevant parties, such as civil groups or the communities, to take part in protecting the forest.
"We want our forests to be sustainable, but those who want to participate in protecting the forest, such as the Prey Lang Community Network and CYN, had their access to some forests restricted," he said, referring to the Environment Ministry's decision to ban the indigenous network from accessing the forest in February 2020.
According to a Ministry of Environment report issued in 2021, Cambodia has so far maintained 46.86 percent–which amounts to 8.5 million hectares–of forest cover across the country, down from 61.75 percent in 2002.
Of these 46.86 percent, 41 percent are under the responsibility of the Ministry of Environment, which guarantees their protection and conservation, Pheaktra said.
As part of its carbon-reduction efforts, the government agreed in the 2015 Paris Agreement to play an active role in forest protection and to preserve up to 60 percent of forest cover across the country by 2030.
Related Articles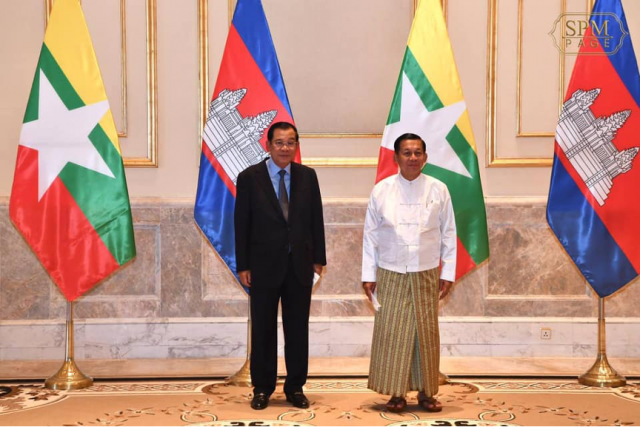 January 10, 2022 11:56 AM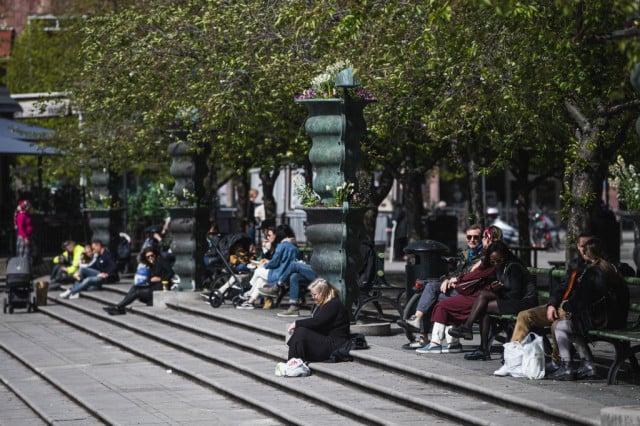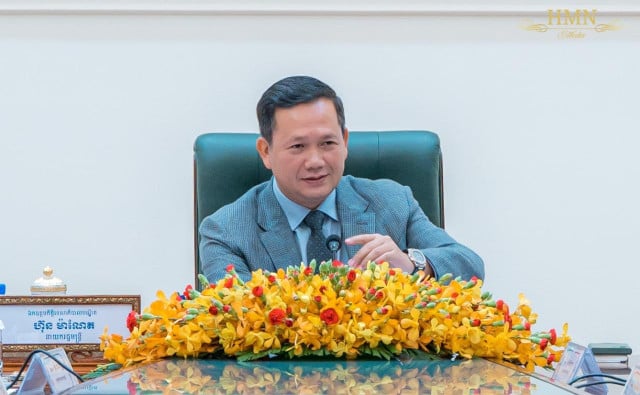 September 3, 2023 1:00 PM