FT Gallery Launches its Headquarters inside Urban Village's Community with a Group Exhibition from Various International Artists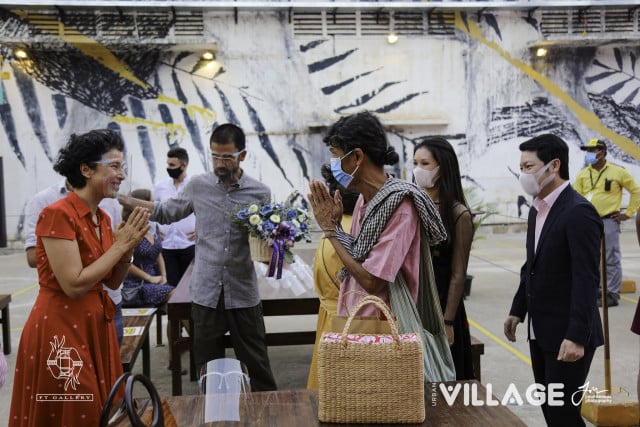 Urban Village
January 25, 2021 6:16 AM
In partnership with Urban Village and Factory Phnom Penh, FT Gallery & Studio, Cambodia's first contemporary urban art gallery & street art, mural production company, celebrated its official launch on Saturday 23rd January 2021 with a group exhibition from various well-known international artists called "FT SANCTUARY" and an honorary presence of Her Excellency Phoeurng Sackona, Minister of Culture and Fine Arts, to cut the ribbon.
According to FONKi, the curator and owner of FT Gallery & Studio, the group exhibition aims to celebrate the first permanent establishment of FT Gallery & Studio's first headquarters inside Urban Village's community as well as to congratulate the third anniversary of Factory Phnom Penh's mural programs.
"We bring works from a mix of 14 artists both international and those of Khmer origins to show at the exhibition. These artists have been spreading colours on walls across the kingdom of wonder in the past decades, raising the stock of the blossoming local street art scene," said Mr. FONKi.




"Despite our movements across the world being restrained since COVID-19, "FT SANCTUARY" will make you travel through art, with visual flavours brought from all over the world by street-artists who have been influenced by their trips in Cambodia and the region," Mr. Fonki added.
FT Gallery & Studio focuses on the Khmer Renaissance movement by showcasing international and Cambodia's finest artists influenced primarily by urban street art, graffiti and Asian culture.
It aims to support new Cambodian talents as well as nurturing Phnom Penh's international reputation as a vibrant cultural hub in SouthEast Asia. FT is a platform in constant evolution, built with the desire to create bridges between the past and future of traditional Khmer culture and the international art scene.
"We love Cambodia. Art is our key element in Urban Village and Factory Phnom Penh, the biggest creative art hub in Southeast Asia. Under the partnership with FT Gallery & Studio, we work with local and international artists from all over the world as our ultimate goal is to promote Cambodian art and let the world see the beautiful side of Cambodian art," said Mr. Ben Li, Founder and Chairman of Urban Village & Factory Phnom Penh.


"Cambodia is known as one of the oldest countries in Southeast Asia. Khmer oriental art has the longest history in the region. As the world is advancing, people focus on making money and forget that art is the root of the culture, which is one of the most important components in our daily life," said Ms. Catherine Chan, Founder and Executive Director of Urban Village and Factory Phnom Penh.

"Our international community has the biggest and most unique gallery in Cambodia. We fully support artists. Our gallery has the largest exhibition space where artists can showcase their works, a workshop area where they can collaborate with other artists. We also allow them to exhibit their works for sale inside the gallery. Not to mention, we provide accommodation for artists to stay and a place to work to make sure they have what it takes to do the work and express their passion," said Mr. Ben Li.

FT Gallery & Studio is currently partnering with Factory Phnom Penh to run the Art Space and "Anyone in Residence" (AiR) project. The AiR project is designed for artists, creatives and technology professionals to enjoy short-term access to the ArtSpace facilities and community.
With 2,200 square meters of a gallery, event and studio space, FT & the Factory ArtSpace leave a lot of room for inspiration - both figuratively and literally. FT is bringing a fresh space and a creative anchor for arts in the Kingdom of Wonder and the burgeoning art scene in Southeast Asia.


Related Articles