Garment Factories to Suspend Operations Over Raw Materials Shortage, Government says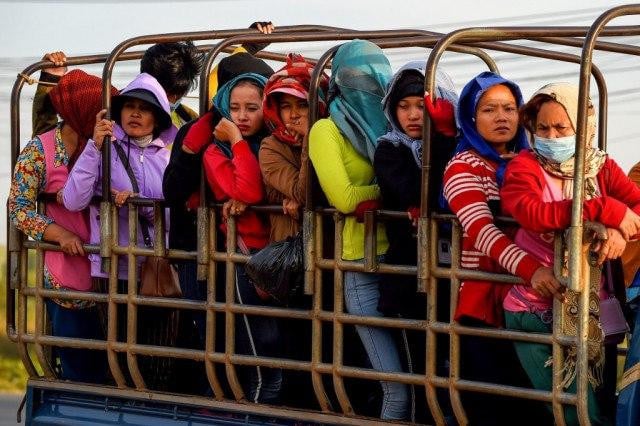 Government claims coronavirus outbreak has disrupted supply chains from China and factories may have to close temporarily until raw materials can be delivered.

PHNOM PENH--The government has warned that some factories in Cambodia will face a temporary suspension of operations due to a lack of raw materials available. This has been heralded as a consequence of the ongoing coronavirus outbreak and the impact it has had on China's processing factories.

Government spokesperson Phay Siphan said on Monday that Cambodia would likely feel the impact of China's decision to close various factories that supply cloth to the Kingdom's garment industry. The closure of Chinese factories and subsequent lack of raw materials available in the Cambodian market was directly linked to the coronavirus outbreak and not any other issue, said Siphan, who added that the suspension of Cambodian factories was temporary.

Speaking at a press conference hosted by the Ministry of Education, Youth and Sport, Siphan noted that China is a major supplier of raw materials, not just to Cambodia but around the world.

He went on to claim that factories in Cambodia may be suspended from operations anywhere between one month and 100 days as a result of their Chinese suppliers having closed temporarily.

"What is happening is not related to any other issues, instead it is related to a temporary suspension of the factories in China who supply our factories with the raw materials necessary," he said.

This comes at a time where the European Union (EU) is set to deliver a verdict on Cambodia's continued access to the preferential trade agreement, Everything But Arms (EBA) on Feb. 12. The EU has raised numerous concerns about a perceived deterioration of human and labour rights in Cambodia and will announce on Wednesday whether it will end the Kingdom's access to EBA.

The EBA scheme, which Cambodia has enjoyed since 2001, has developed the garment and footwear manufacturing sector in Cambodia. Exports from Cambodia to the EU reached 4.9 billion Euros in 2018, with 95.7 percent of those falling under the scope of EBA. As such, many fear a loss of access to EBA would result in garment factories leaving Cambodia for countries with better market access.

Spokesperson for Ministry of Labour and Vocational Training, Heng Sour, said there are around four garment factories who have voiced their concerns after failing to receive confirmation of orders from China. As such, the four factories will suspend operations in late February 2020, he said, but he went on note that there are still some 1200 garment factories operating in Cambodia.

Initial estimates suggest that between 3000 and 4000 workers will be impacted by these factory closures, unless the Chinese suppliers are able to provide the raw materials, he added.

"The Ministry wants to explain that the suspension of the factories is not related to other issues," stressed Sour, who claimed the future will be determined by factories in China, not Cambodia's leadership.

"They're [Cambodian factories] concerned because the raw material suppliers in China have not confirmed orders yet, but if the suppliers are able to commit to orders on time, there will be no suspensions here," he said, adding that if there is no confirmation from the factories in China later this month, it will affect the factories here in Cambodia.


Related Articles