Garment Workers' Unions to Ask for at Least $20 Wage Increase for 2023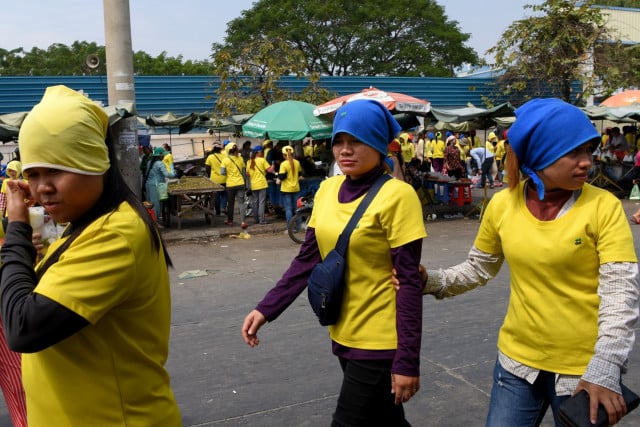 Garment workers' minimum wage only increased by $2 in 2021
PHNOM PENH – Workers' representatives are going to ask for at least a $20 salary increase during the upcoming negotiation on minimum wage, which will start in August and should close at the end of September or early October.
Ath Thorn, President of the Cambodian Labor Union (CLC) said that unions will conduct a research and interview 500 workers in July, to better understand their financial challenges with living on the current minimum wage, set at $194 a month. He also plans to discuss with other union leaders to find a common ground prior to the negotiations.
"Because the COVID-19 pandemic is now under control and workers are returning to work normally, this year is favorable to ask for a higher salary increase than what workers received in the previous years," he said.
He expects at least a 20$ increase for 2023, but the final decision will be taken by the National Council on Minimum Wage, after tripartite talks between government officials, workers' unions and employers and industry representatives. Workers should get at least $250 per month for a decent living.
"The inflation is so high that it is difficult for workers to meet their daily expenses, especially on some basic items like food or gasoline, which prices have increased a lot," he said.
Ath Thorn added that the export of garment products to the United States and the European Union increased more in 2021 than in the previous years, despite Cambodia having lost some of its trade preferences with these two partners. The Kingdom's eligibility to the U.S.' Generalized System of Preferences, which allowed duty-free entry to most of Cambodia's garment products, expired in December 2021 and is still up to renewal. Similarly, the EU partially withdrew its Everything But Arms scheme from Cambodia in 2020.
"As exports increased, the loss of GSP shouldn't be a barrier for employers not to increase workers' salary, especially because the government is working on asking the GSP back," he said.
"As they don't want to lose their profits, it is very common that employers find any reason or argument not to increase workers' salary. But the unions will push to increase their income," Thorn added.
Khuon Sokha, a garment worker at Veng Sreng Blvd, said that the current $194 wage is not suitable for her, as it only increased by $2 last year, while the price of day-to-day goods and gasoline increased sharply since the war in Ukraine started.
The 40-year-old employee added that she's paying around $60 per month for her rent and electricity. She also invests in the education of her three children, who study English on a part-time basis.
"The current salary is not enough for supporting my family, especially in Phnom Penh [where the cost of living is higher]," she said.
"If next year, the salary doesn't increase or only rises by $2 like this year, it will be even more difficult for me," Sokha added.
She borrowed $3,000 from a bank to buy a motorbike for her husband, who works as a construction worker. She now has to pay back $100 every month out of her $194 income.
Another garment worker at Veng Sreng Blvd, Eng Ramo, has similar financial difficulties, as her salary doesn't meet her family's daily expenses.
"My current wage is not enough. It would be great if the government would consider increasing workers' salaries. It could help me send money to my parents in the province and even save some of it for emergency use," she said.
The Ministry of Labor and Vocational Training issued a statement on June 23, calling all relevant parties to use reliable and scientific research by social criteria on family conditions, inflation and living cost before the opening of the minimum wage negotiations for workers in the textile, garment, footwear, travel goods and bags sectors.
Economic criteria on production capacity, global competition, market condition and employers' profit will also be considered during the upcoming talks.
Related Articles