Garment Workers Vaccination Centers Expanded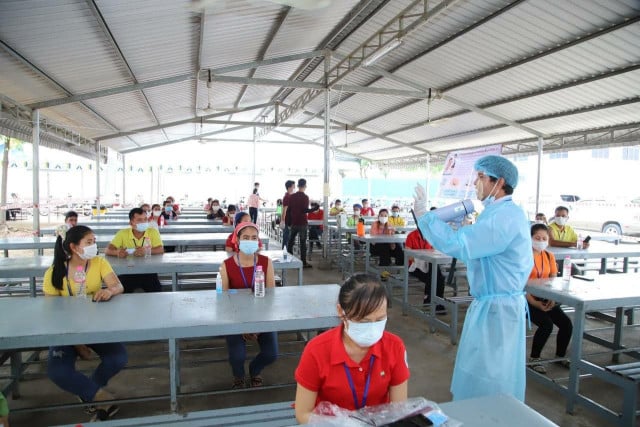 Phoung Vantha
April 9, 2021 11:55 AM
Up to 12,000 workers to be inoculated daily next week
PHNOM PENH--Four more vaccination centers were launched in Phnom Penh on Friday to boost inoculations of garment workers as COVID-19 cases rise.
The Labor Ministry said the centers were at Vattanac Industrial Park I, Shenzhou factory, on Veng Sreng Blvd, Vattanac Industrial Park II on National Road 3, and Marvel factory.
Labour spokesman Heng Sour said the centers will be able to vaccinate about 3,500 workers a day.
With eight centers, a ministry ad-hoc committee for vaccinations will be able to vaccinate up to 7,000 workers per day.
"According to the plan, from next week, we plan to expand more vaccination centers to be able to vaccinate 10,000 to 12,000 workers per day," he said.
Health authorities are urging workers in Din Han Enterprise Co to be tested after more than 200 workers were found to be infected out of more than 2,500 workers in the factory.
On April 9, 576 new cases were reported, all linked to the Feb. 20 community outbreak. The biggest rise in cases was again in Phnom Penh, where another 544 people were affected.
The government has given 200,000 vaccine doses in Phnom Penh this month.
This will be expanded to Kandal, and then to Preah Sihanouk, Svay Rieng and Takeo provinces.
As of April.8, the number of workers who had registered for vaccination was 9,116 plus, 348 foreigners.
The number vaccinated with the first dose was 8,875, including foreigners. Also, 241 people were not allowed to be vaccinated due to health problems.
Heng Sour called on workers who have not been vaccinated to hurry to register with the factory administration.
So far 815,974 people have had jabs since the vaccination campaign began on Feb. 10. Of these, 200,446 are military personnel while the 615,528 civilians who have been vaccinated did so on a voluntary basis.
The total number of cases recorded in Cambodia now stands at 3,604, of whom 1,984 people have recovered, leaving 1591 active cases. The death toll has reached 24.
Cambodia has more than 1,864 factories, mostly making garments and footwear. It has more than 43,082 small and medium-sized industries and handicrafts companies, which employ a total of more than 1.5 million workers, according to Prime Minister Hun Sen's message to the Cambodian people on the occasion of Khmer New Year on April. 8.
Related Articles