Gender Should Not Be A Barrier for Female Graphic Designer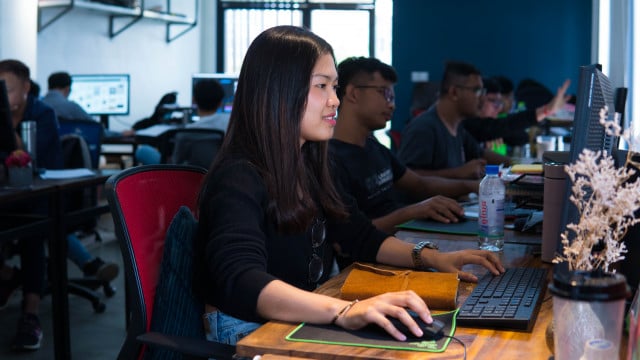 Cambodianess
November 10, 2020 4:56 AM
"Women should not let social norms block their dreams and must keep their passion and walk forward to achieve their dream," says SOK Vanlina, graphic designer at Kouprey Creative Solutions.

Even though it has been a little bit tough for being a woman to work in the graphic design sector due to social pressure and discouragement from her surrounding environment, Ms. SOK Vanlina, 22-year-old, never hesitates to follow her dream in this field and right now she is excitedly working as a Junior Graphic Designer at Kouprey Creative Solutions.

Looking back at her educational background, Ms. Vanlina graduated with a Bachelor of Product Design from Rambhai Barni Rajabhat University, Thailand, under the auspices of the Thai Government Scholarship in 2016. While studying, she becomes very interested in graphic design, and in order to make her dream come true, she completed an internship in graphic design at Seven Peaks, Bangkok, Thailand, where she had a chance to work with people from different walks of life, and it was very challenging but she could learn a lot from them.

Why do you choose a career as a graphic designer?

I was inspired to pursue my dream in graphic design because I felt it is my inborn talent and passion. I like drawing and thinking out of the box, and I don't like doing things monotonously. Additionally, I think that it allows me to bring my creative and fresh ideas to life by displaying them through artwork and design.

Recently, after graduating from Thailand, I have a plan to pursue a master's degree in software and website development such as UX/UI in France; however, due to the COVID-19 pandemic, my study departure has been postponed and I will achieve this dream whenever the global situation gets back to normal.




When do you feel like you truly "want to become" a Graphic Designer?

Basically, it is hard to know exactly when I was interested in this field. While studying in Thailand, I always attended the graphic design exhibition of the design department at my university as I felt very interested and excited to learn more about how they designed it.

After touring around the exhibition, I wanted to be a graphic artist and started the digital drawing on Illustrator. Immediately, I asked myself why I studied Product Design, and I realized it was a stepping stone for me to move my career into the graphic design sector.

Moreover, I think graphic design is my style, which I could choose the colors and mix them together to make fascinating and marvelous artwork. Thus, I think it was amazing.

At Kouprey Creative Solutions, you are known as a Graphic Designer and how did you unlock your potentials in your team?

First and foremost, I felt very nervous to think of how to unlock my potential in the team since it is my first professional workplace ever. However, due to the friendly and respectful characteristics of the team, I could get more inspiration and felt relaxed and energetic to get the work done.

For the first time working at Kouprey Creative Solutions, I felt very worried and stressed to work on a logo design concept, and I remembered that at that time I tried to sketch several samples. However, due to the strong and kind support from my team, it really helps me get all worries off my chest.

Ultimately, my proposed concept was officially accepted and from then on, I felt thrilled and I told myself that I could do it. I proudly realized that gender or being a new-comer in the team is not an obstacle to work in this field, and it really unlocked my potentials and made me trust in what I was doing.

How do you feel working in a male-dominated working environment?

Actually, nothing is surprising me at all working in a male-dominated environment since I got used to it and it is very similar to what I experienced in Thailand, where my class was also full of male students.

Normally, I just needed to flexibly adapt to the working style at the company a little bit. Also, in the first place, I felt a little bit nervous to express the idea; however, after working with them for a while, I found out that they were friendly, easy-going, and open-minded. Moreover, they always took my idea into consideration as well as gave me a lot of emotional support so that it really put my mind at ease.




What do you like the most about your job?

Frankly speaking, I felt over the moon whenever my idea was accepted and implemented, especially when I got constructive feedback from my team. More importantly, what I like the most about Kouprey Creative Solutions is the working environment, which is surrounded by a lot of friendly, helpful, experienced, creative people. Specifically, they are very open-minded and supportive, especially when I got stuck behind my desk and I could get tons of fresh ideas from them.

Why do you think it might be right for you to work in this field?

There are a number of reasons why I think Kouprey Creative Solutions is the right workplace for me because it is well-known for its creative and excellent portfolio in graphic design, and the company has gained a lot of diverse clients from various sectors. Therefore, working at this firm, I always get a lot of new tasks to explore and to work on such as logo, poster, banner, key visual design so that I have a chance to brush up on my skills in graphic design every day and push up more creative ideas. Additionally, I am very enthusiastic about the company culture, in which people are very energetic and helpful because we are working like a family that people excitedly assist each other for the sake of the client's needs and expectations.

Do you think gender is a barrier to achieve a dream? What do you find the most challenging about your role?Generally, even though it is obviously seen that a significant development undergoing in Cambodia and this society strives to offer equal space for both genders to live and work equally, I think gender is still a key barrier. They might think that being a girl doesn't need to pursue higher education, but I would like them to ask themselves about what they want and what they need. When asking this question, they don't need to care about the status quo of our society and they need to keep their passion and walk forward to achieve their dream.

In my experience, I also got a little bit of pressure from some family members. They encouraged me to study banking because they thought it is more suitable for girls and it looks cool and beautiful. At that time, I explained to them the reason why I chose that major and let them know that I would not be able to make my best for doing the thing that I was not very keen on. However, I was very lucky that they listened to my reasons and let me follow my dream.

What are your strategies to prepare yourself for working in this field?

It is just simple! What I need to do is to keep both schooling and self-study. More often than not, I think that we could not expect our teacher to provide all courses for us. For example, at my university, I didn't learn Photoshop or Illustrator, but to get more understanding and technical knowledge in these subjects, I enthusiastically spent most of my time for self-learning at the library and also registered for a number of online courses.

Moreover, the most convenient and widely accessible way to get self-study is to learn on YouTube, and I regularly followed the trend and the update of graphic design development by doing more research on Google. By doing so, I could learn more perspectives from different famous graphic designers from around the world.




Do you have any recommendations and suggestions for women in this field or those who want to pursue their career in graphic design?

From my observation, the number of women in the graphic design sector in Cambodia is still scarce. Therefore, for women who would like to develop their professional careers in graphic design, I would like them to stop thinking of the social norms, which says "women could not do this or could not do that."

In addition, they need to focus on the major that they are enthusiastic to study, and they should set their own goal. For example, if they really want to be a graphic designer, they need to be creative and brave. Besides, they should be able to think outside the box and bring that idea to real-life. More importantly, they must overcome all the barriers that could block them from thriving and achieving their dreams.
Related Articles