Germany Approves Additional €1M for Cambodia's IDPoor Program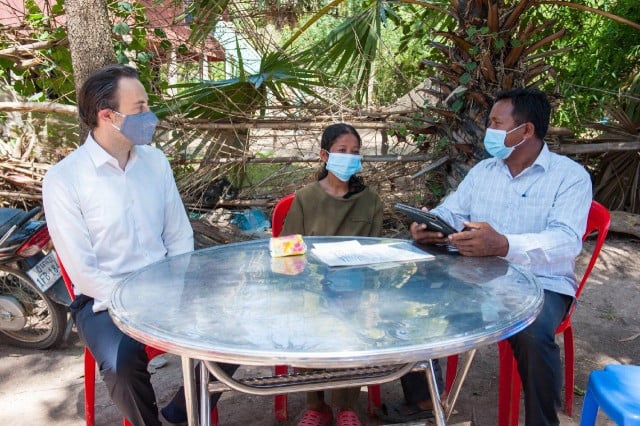 Phoung Vantha
July 14, 2020 12:33 PM
This is on top of the estimated $8 million that Germany has invested in developing a safety net for Cambodia's poorest and most vulnerable.
PHNOM PENH--Germany's government on Tuesday (July 14) announced it will provide an additional €1 million ($1,135,810) for Cambodia's IDPoor program to support the cash-transfer program for poor people. Funded through GIZ, Germany's international development agency, the IDPoor program has been straining to live up to its slogan of "Leave No-one Behind" as the Coronavirus Disease 2019 (COVID-19) pandemic has placed an even greater burden on Cambodia's poorest.
"Until now, the Cambodian government has been very successful in dealing with the health crisis," said German Ambassador to Cambodia, Christian Berger. "By supporting poor households, it has taken right steps to cushion the economic effects. Germany is happy to support the Cambodian government in this important endeavor through German technical expertise."
Currently, more than 560,000 households—equating to 2.3 million Cambodians—have been identified as eligible for the cash-transfer program, although many complaints have been raised over politically motivated favoritism when it comes to identifying deserving households.
Both the German and Australian governments have been working with the Ministry of Planning through GIZ for more than ten years in building and maintaining a system for identifying poor and vulnerable households. A similar Pandemic Relief Fund will also operate on the IDPoor program's framework as a means for identifying those who have lost their jobs or income as a result of the COVID-19 pandemic.
At present, more than 150,000 garment workers have lost their jobs or have had their hours cut following the suspension of operations in more than 400 factories. Another key industry for Cambodia's economy, tourism, has suffered immeasurably as COVID-19 has grounded flights, sealed borders and caused international arrival figures to drop substantially. Subsequently, an estimated 16,000 jobs have been lost as hotels and guesthouses shutter in the wake of the pandemic.
Another knock-on effect has been the estimated 90,000 Cambodians who were forced to return from Thailand over the course of the year, meaning that they were unable to send remittance money home to struggling families.
Since its inception, Germany has contributed €7.1 million euro ($8 million) and Australia AU$14 million ($10 million) to Cambodia's IDPoor program, but it remains to be seen whether the initiative can cope with the rising unemployment and impending economic downturn that Cambodia now faces.
Related Articles