Germany provides €2 mln grant to Mekong River Commission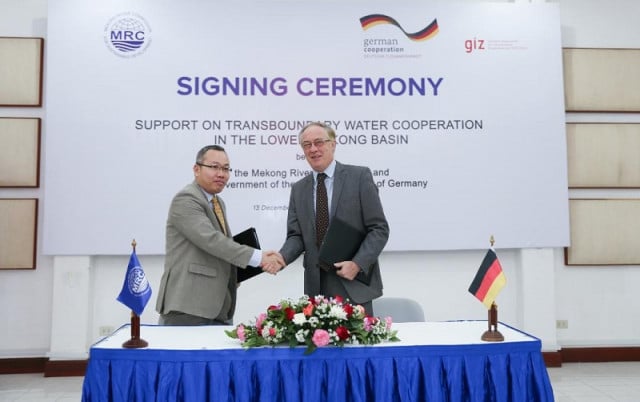 Peter Starr
December 13, 2019 7:02 AM
Grant to be used for dialogue, cooperation and monitoring impacts of mainstream dams

PHNOM PENH - The Mekong River Commission (MRC) said Friday that Germany had agreed to provide €2 million ($2.2 million) for cross-border dialogue and cooperation.
Under the agreement, the grant will also be used to "support efforts in monitoring transboundary environmental impacts from Mekong mainstream dams," a statement said.
The agreement was signed in Vientiane Friday by An Pich Hatda, chief executive at the MRC Secretariat, and Jens Lütkenherm, the German ambassador to Laos.
'MEKONG RIVER IS FACING DIFFICULT TRADE-OFFS'
"The German support comes at a critical time," Dr Hatda said. "The Mekong River is facing difficult trade-offs between increased development in the energy, transport and agriculture sectors and impacts on the environment and local livelihoods."
Covering a two-year period, the grant aims to "boost dialogue and cooperation on transboundary water resource planning and management," the statement said.
"The grant is also set to increase efforts in monitoring transboundary environmental impacts from the already built Mekong mainstream dams – Xayaburi and Don Sahong – and providing measures to reduce the effects through an MRC's Joint Environmental Monitoring Program."
Mekong water levels are at their lowest in at least 60 years, with some parts of river changing its typical brown color to an aquamarine hue.
NEED FOR 'METICULOUS AND SPEEDY' MONITORING AND REPORTING
The MRC warned earlier this week that the blue-green hue was likely to spread, possibly changing river productivity and reducing productivity of aquatic biodiversity.
"These emerging issues require meticulous and speedy monitoring and reporting," Dr Hatda said.
The German ambassador said MRC monitoring and management work was becoming "ever more critical" amid growing pressure from irrigation, hydropower and water supply.
"Our additional grant should allow the MRC to fast-track work on assessing such impacts and ensure that decision-makers in the Basin are aware of the consequences and take timely and appropriate actions," he said.
Related Articles