Ghost Nets: the Silent Killer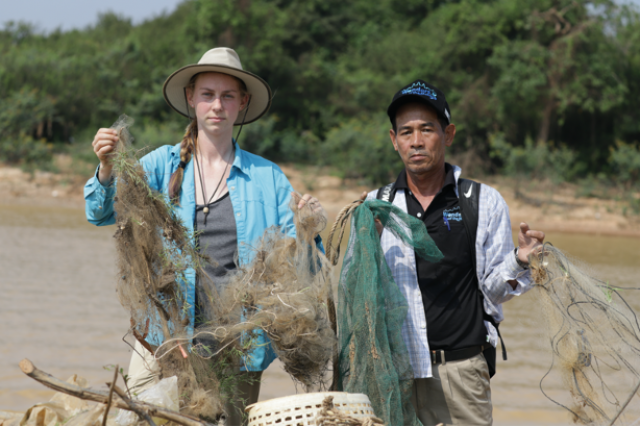 SIEM REAP--On March 03, 2021 the Wonders of the Mekong team did a small trash clean up on the shore of the Siem Reap River during field work in the floating village and fishing community of Chong Kheas. The Siem Reap River flows into the Tonle Sap Lake, one of the richest freshwater fishing areas in the region. Among the heaps of trash, the Wonders of the Mekong team found that discarded fishing nets were the most prominent item.

The Tonle Sap Lake is the largest lake in Southeast Asia and is one of the most biodiverse and productive fisheries in the world. Unfortunately, the lake grows increasingly more polluted day by day as discarded fishing nets accumulate on it shores and in the water.

Fishing nets are made from nylon, a plastic-based material that does not decompose and remains in the environment indefinitely. In the Tonle Sap Lake​ fishing nets are discarded by fishermen every year. These nets continue to drift through the water, trapping and eventually killing fish and other animals. Because these nets are no longer checked and float freely within the environment, they are commonly referred to as ghost nets, and the phenomenon is called ghost fishing.


There are a number of ways nets end up ghost fishing. These nets may be accidentally lost by fishermen or may be discarded by fishermen if the nets are broken and no longer worth fixing. Ghost nets can often be found on the lakeshore when the water in the lake recedes, snagged on trees in the flooded forests, or caught on floating logs at the water's surface.
Although seemingly harmless, ghost nets can be deadly to any fish and they have become especially harmful in recent years in the Tonle Sap Lake. Fish and other freshwater animals can easily become entangled in discarded ghost nets and starve to death. These trapped fish, in turn, can become easy prey for predators which further contributes to the fish population decline. Moreover, fishing boats are also often at risk when the ghost nets become stuck in their propellers.
To reduce ghost nets in the Tonle Sap Lake, we urge fishermen to be mindful when disposing of their fishing nets: please don't throw them into the water or along the shore, and instead of finding a proper place to dispose of them. Let's join together for a sustainable and healthy Tonle Sap Lake and Mekong River.


Related Articles