GMAC "Clutching at Straws" with Minimum Wage Freeze Demand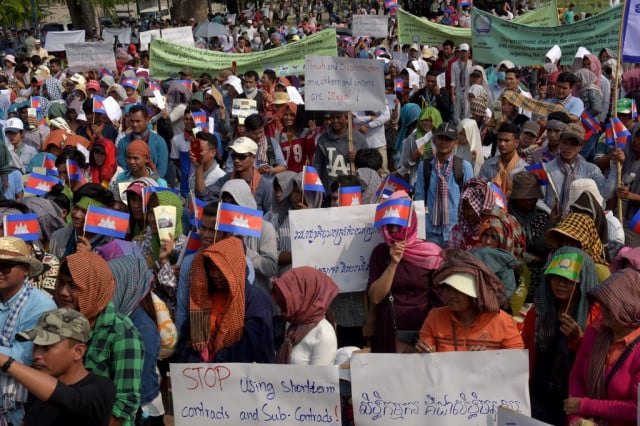 Gerald Flynn
June 27, 2020 3:17 AM
Neither unions nor legal experts are impressed by the garment association's request to suspend minimum wage negotiations for 2020

PHNOM PENH--In a statement issued June 23, the Garment Manufacturers Association in Cambodia (GMAC) has called for a suspension of this year's scheduled minimum wage negotiations over threats posed to the sector by the Coronavirus Disease 2019 (COVID-19) pandemic. GMAC argued that Cambodia's garment manufacturing industry is facing an unprecedented crisis and that suspending negotiations over next year's minimum wage would be a means of keeping the sector alive.

GMAC's statement was in response to a notification issued by the Ministry of Labor on June 10 that outlined the schedule for this year's minimum wage negotiations. According to Ken Loo, secretary-general of GMAC, negotiations were set to kick off next month as internal discussions before moving on to bilateral negotiations in August and tripartite discussions in September, with the official announcement of 2021's minimum wage scheduled for October 2020.

However, GMAC has maintained that the prevailing economic climate would make such negotiations costly for an already beleaguered industry.

"In the present circumstance, Cambodia as well as countries around the world, are being adversely affected by the global COVID-19 pandemic, which causes several sectors to be [suffering] from many unprecedented crises," the statement read, before noting that many enterprises in Cambodia's garment, textile and footwear manufacturing sector had already suspended operations.

This, GMAC said, was mostly due to a significant drop in demand that has led to some buyers canceling orders, whereas others have refused to pay for goods delivered from Cambodia as stores and retailers worldwide have closed in the wake of COVID-19.

Around 750,000 Cambodians have been employed in some 1,100 garment factories nationwide, the majority of whom are women. Loo of GMAC estimated that exports from garments, shoes and travel goods were worth more than $10 billion in 2019 alone. But COVID-19 has crippled this key engine of economic growth with the livelihoods of thousands of Cambodians now hanging in the balance.

While Spokesperson for the Ministry of Labor Heng Sour could not be reached despite multiple attempts to contact him, the latest official figures to come out of the ministry suggest that 256 factories have suspended their operations as of June 2, with more than 130,000 workers losing jobs or income.

Currently, the minimum wage for Cambodians employed in the garment sector is $190 per month following negotiations that concluded on Sept. 20, 2019, representing an increase of 4.4 percent from the 2018 minimum wage of $170 per month. This was following the annual minimum-wage consultation guaranteed under the Law on Minimum Wage. But despite the legal provisions supposedly covering a range of sectors, the reality is that only the garment sector benefits from this.

It is a benefit that Sandra D'Amico, vice president of the Cambodian Federation of Employers and Business Associations (CAMFEBA), believes should be revoked for the sake of the sector's survival.

"CAMFEBA absolutely supports GMAC on this," she said. "At the moment, to adjust the minimum wage is just not a smart idea. Everybody is suffering…many factories have closed down, we don't have orders, so it doesn't make sense to be going through minimum wage negotiations at this point."

D'Amico contended that the current minimum wage is already too high and poses a threat to Cambodia's competitiveness.

"Now should really be a time for reflection as to how we're going to reskill ourselves and how we're going to create new jobs—not to focus on the negotiations of minimum wage," she said. "It's not even a question of delaying minimum wage negotiations: We need to get over the bump and get the economy working again."

COVID-19 an Act of God

In its statement, GMAC cited paragraph 3 of Article 107 of the Labor Law and Article 5 of the Minimum Wage Law, saying that these laws imply that negotiations over the minimum wage must factor in the social and economic situation of Cambodia.

According to the Labor Law, the needs of workers and their families in relation to the general level of salary in the country, as well as the cost of living, social security allowances and the comparative standard of living make up the social elements. Economically, the requirements of economic development, productivity and the maintenance of a high level of employment need to be considered.

"In addition, paragraph 2 of Article 11 of the Law on Minimum Wage states that 'In the event of an Act of God, or necessary case, the Minister of the Ministry in charge of Labor may issue a Prakas to suspend or change the schedule of discussions of minimum wage. In this case the minimum wage of the previous year will remain in effect until there is a new minimum wage to replace,'" GMAC wrote.

However, Patrick Lee—a legal advisor at the human and labor rights organization CENTRAL—argued that GMAC's call for postponed negotiations unfairly targets workers.

"I think it's certainly very weak as far as a legal argument goes for shutting down minimum wage negotiations and, let's be clear, that's what GMAC are trying to do here: shut down minimum wage negotiations for 2020 with the hope of avoiding another annual wage increase," said Lee in an interview.

Lee stated that GMAC is correct in its assertion that the profitability of Cambodia's garment sector should be considered in determining the minimum wage, but he suggested that GMAC is largely ignoring the social factors laid out for consideration by the Law on Minimum Wage.

"None of these are given any sort of priority against each other, meaning that, as far as Article 5 is concerned, family status, inflation and cost of living are to be given the same weight as the sector's profitability in considering the minimum wage level," he said.

Furthermore, Lee suggested that Article 5 of the Law on Minimum Wage actually sets out a stronger argument for an increase in minimum wage, rather than freezing it.

"Asia Floor Wage Alliance conducted research on garment workers' family status and cost of living in Cambodia late last year and found a living wage figure roughly equal to $294 per month, yet GMAC now apparently wants to freeze their income at $190 per month," said Lee, arguing that a wage increase would even boost consumer spending and benefit the economy.

He went on to point out that, despite the devastation COVID-19 has wrought upon the Cambodian economy, it does not constitute a force majeure event as GMAC claimed. This point is somewhat underscored by Prime Minister Hun Sen who has, throughout the pandemic, declined to declare a state of emergency, despite rushing through legislation to grant his government more powers should such a declaration be made.

"GMAC would be clutching at straws if they were to try and argue that it does [constitute an act of God]—GMAC may view the current crisis as a 'necessity' sufficient to shut down discussion and negotiation on wage, but I do not," Lee said.

No Legitimate Reason to End Negotiations

He concluded by saying that there is no legitimate reason to shut down negotiations and that if GMAC felt there should be no increase in the minimum wage, then they could demand this during the negotiation process.
Whether the government will meet GMAC's demands or balance them against the needs of the workers remains unclear, but for Ath Thorn, president of the Cambodian Labor Federation, GMAC's demands should be dismissed.

"GMAC wants to delay the negotiations because they don't want to increase the spending for employers," he said in a voice message. "They say that this crisis affects the employers, but they appear to forget that the workers are also affected by this crisis: The employers are the ones being unreasonable. These negotiations are just supposed to start as discussions, it won't even be implemented until 2021.

"Many workers aren't even receiving the minimum wage right now and even so, the current minimum wage is not enough to cover the cost of living—which is on average $250 per month, but workers are getting just $190—so workers have to spend all of their money to survive, for food, for shelter, for their responsibilities to their families," Thorn explained.

Following the guidelines of the Labor Law, Thorn noted that the average Cambodian working in a garment factory will work eight hours a day, six days a week, averaging out to a total of 48 hours a week or 192 hours per month. As such, at $190 per month, the average factory worker is paid less than $1 an hour although, Thorn noted, most factory workers will regularly work overtime, as well as through public holidays, so the majority can take home somewhere between $200 and $250 per month if they are prepared to work more shifts than the Labor Law limits employers to.

Thorn reiterated concerns he voiced in April 2020 regarding the failure of employers and the government to honor their agreements and pay the workers who have lost their jobs or income during the pandemic. He also pointed out that the government data regarding the number of factories closed and the number of workers affected may not be accurate as many factories operate without registering and are able to dismiss employees without these being officially recorded.

"The workers are very fearful of the future of manufacturing in Cambodia," Thorn said. "They feel that there is no longer the job security that the industry used to have. Now we have limited raw materials, we have very few orders from the international buyers, but at least let's see what will happen: If the COVID-19 situation improves, then perhaps we can continue." He added that the sanctions due to be applied to the industry by the European Union in August 2020 are also a grave concern for the workers.

Failure to Diversify

While economic diversification has been on the government's to-do list since the 2015 Industrial Development Policy, garment manufacturing remains a hefty majority of Cambodia's exports.

"The government has been aiming for economic diversification, for years they've been trying to move away from garments," explained Loo of GMAC. "Previously garments, textiles and footwear used to account for around 85 percent of total exports, but now that's down to about 70 percent—it's just something that happened though, the dependency on garment manufacturing wasn't really a planned event."

D'Amico of CAMFEBA agrees that more diversification could help soften the blows that continue to rain down upon Cambodia's garment industry but maintains that workers should not request higher wages despite the grim economic forecasts. While the government has optimistically projected an economic contraction of 1.9 percent for 2020, the Asian Development Bank painted a far bleaker picture, suggesting that Cambodia's economy will shrink by 5.5 percent this year. However, even against this backdrop, she remains hopeful. "Is this the final nail in the coffin of garment manufacturing in Cambodia?

"I couldn't say for sure, there is still hope for some of them. But for the majority, it is going to be very difficult and buyers don't put down orders if they don't know what minimum wages are like," said D'Amico, who believes that negotiations would create more uncertainty in an already chaotic situation.

She did note that more could be done to provide for the Cambodians who have lost jobs and income due to the disruption brought about by the pandemic, but insists that it should not all be left to the government.

"We don't have an unemployment fund and we just don't have a social safety net in place at the moment," she said. "So it's very difficult to be able to support an unemployed workforce and the government's means can only go so far.

"So they're trying to cover some of the costs for the garment sector, but the whole tourism sector is suffering too and the government can't cover it all," D'Amico added.
Related Articles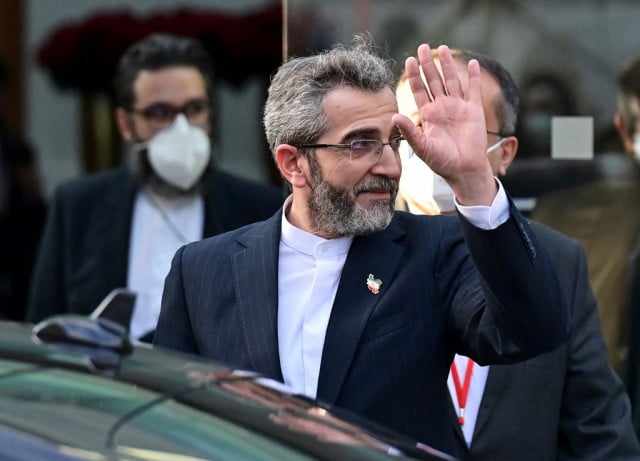 January 14, 2022 10:30 AM