GMAC Predicts 70 Percent of Garment Markets Facing COVID-19 Disruption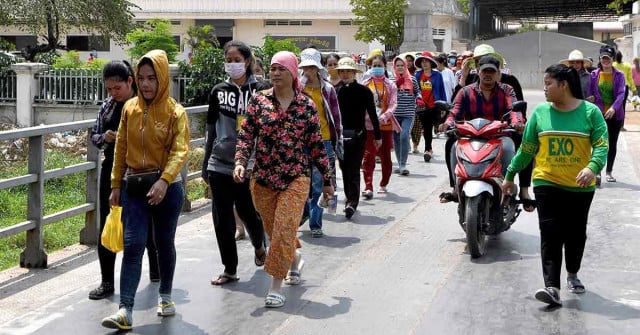 Phoung Vantha
March 31, 2020 6:16 AM
Exports to US and EU markets among hardest hit by the COVID-19 pandemic putting Cambodian jobs at risk.

PHNOM PENH--Many garments factories in Cambodia will face the challenge of raw material shortages or lack of orders due to the Coronavirus Disease 2019 (COVID-19) pandemic, according to a statement from the Garment Manufacturers Association of Cambodia (GMAC) on Tuesday.

Deputy Secretary-General of GMAC, Kaing Monika said that some buyers will freeze their order while others have already canceled their orders for many of the coming months. This, he said, was especially true of the factories who produce for markets in the United States, the European Union, the United Kingdom and Canada due to the economic impact of COVID-19 in these countries.

Cambodian exports of garments and footwear to the EU were valued at €4.6 billion ($5.06 billion) in 2018, whereas Cambodian exports to the US were valued at $3.8 billion in the same year.

"Buyers told us to stop supplying the goods, even though we have already produced for next week's orders," he said.

He admitted that he could not specify the exact number of factories that face these issues, but suggested it would affect most Cambodian factories as their export markets are spread across counties currently battling the COVID-19 pandemic.

"If we evaluate the market share we export, the EU accounts for 46 percent of our total exports, 28 percent of the US, and Canada 8 percent, so it's over 70 percent," he said, but added GMAC is unsure of how many workers will be affected by this.

There are thought to be between 750,000 and 800,000 people employed in garments manufacturing, but the estimated number of dependents – including small businesses who sell to the factory workers and family members – is estimated to be around 3,000,000.

"It's the global issue that other countries are also facing too, Myanmar, Bangladesh, Vietnam, Indonesia, Lao PDR and Sri Lanka, not only Cambodia," he said.

Prime Minister Hun Sen on Monday said that 50 factories had suspended their operations as a lack of raw materials and seven others due to lack of orders. Hun Sen had previously intervened to acquire more raw materials from China, who are crucial to Cambodia's supply chain, but it appears his attempts at diplomacy will be insufficient to save one of the kingdom's key industries.

This comes after the Feb. 12, 2020 decision from the EU to partially revoke Cambodia's access to the preferential trading scheme, Everything But Arms, citing human and labor rights violations.

In August 2020, roughly 20 percent more tariffs will be applied to Cambodian exports, which mostly consist of garments, textiles, footwear and travel goods – these are thought to be worth around $1 billion annually.
Related Articles