Gold Medallist Va Mithona Promises to Defend his Gold Medal in 2023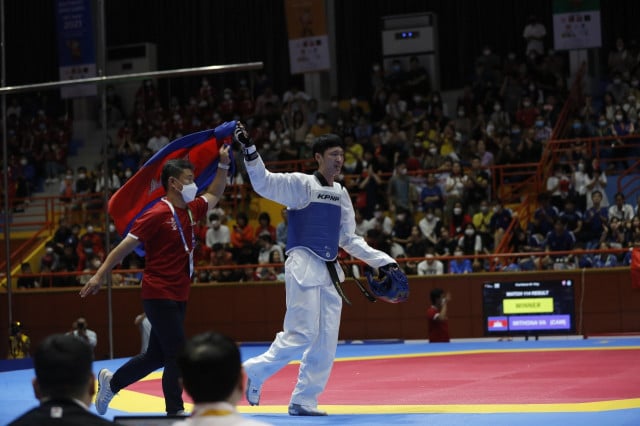 He says he is determined to do Cambodia proud
PHNOM PENH–Cambodia's fourth gold medallist at the 31st Southeast Asian Games (SEA Games) in Hanoi in the WT Taekwondo category, Va Mithona believes he still has shortcomings that need to be improved to defend his gold medal at the 2023 SEA Games to be held in Cambodia.
On May 18, 2022, Mithona won a gold medal in WT Taekwondo in the Kyorugi Men's under-74kg category after going through a tough fight to beat Vietnam's hosts in the semi-finals with a score of 36-18. He advanced to the finals, defeating the Philippines with 34-14 to win the first gold medal in a regional tournament.
He was also the first person to help WT Cambodia win a gold medal at the SEA Games in the men's event, after Sorn Seavmey who won the first prize at the 27th SEA Games in 2013 in Myanmar in the women's event.
With the gold medal, Mithona revealed some of the motivations that both he and the coach contributed to each other.
"The reason I won the gold medal was because I had competed many times but always failed," he said. "But this time I trained hard. I think I did it not only because of the experience of losing the game, but also the experience I gained from them. This allows me to think of myself well.
"Every time I go out, I always notice that I lack something, and I ask the coach," Mithona said. "Then he gives the same advice."
The 22-year-old insists that the hardships of both training and competition are always there for him, but he can overcome them with determination, as the sport is a martial art.
"I will be determined to train and correct the mistakes made at this SEA Games," Mithona said. "[E]ven though I won the gold medal, I still have some limitations, such as negligence in general, weak defense and weak body.
"So, I will improve this to protect next year's gold medal in my homeland," Mithona stressed.
The 1.87-meter-tall athlete is committed to the 2023 SEA Games.
Before acquiring the gold medal in the first SEA Games, Mithona had lost at the SEA Games twice in a row. At the 29th SEA Games in Malaysia in 2017, he reached the qualifiers, and at the first 30th SEA Games in the Philippines in 2019, he had reached the same qualifiers. It was not until 2021 (2022) that he achieved his first gold medal in his career.
Born on June 1, 2000, Mithona is now 22 years old. He started training for WT Taekwondo in 2015 and then joined the national team in 2017. In addition to the SEA Games, he also competed in the 2021 Asian Taekwondo Olympic Qualification Tournament in 2021 under 80 kg category but lost to a Chinese Taipei 38-4 in the first round.
Related Articles