Government Cancels Water Festival over COVID-19 Concerns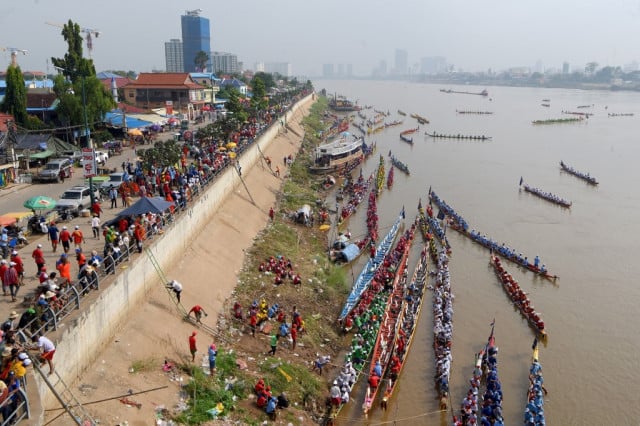 Although no official reason has been given, the ongoing pandemic presents an obvious obstacle to the revered national holiday.
PHNOM PENH--The Cambodian government has called off this year's Water Festival, according to an announcement from the Council of Ministers on Aug. 13. While no official reason was given for the cancelation, the Coronavirus Disease 2019 (COVID-19) pandemic is believed to have factored into the decision.
Permanent Secretary of State of the Office Hing Thoraksi wrote to Royal Palace Minister and Chairman of National Committee for Organizing National and International Festivals, Kong Som Ol, confirming that Prime Minister Hun Sen had agreed to the request to cancel the three-day event.
"Office of Council of Ministers would like to inform you that government agreed to cancel Water Festival 2020," Thoraksi said in statement on Aug. 11. The festival had been scheduled to take place over Oct. 30, 31 and Nov. 1, 2020.
While the letter didn't provide a reason for the cancelation, the COVID-19 pandemic is likely a factor as the virus continues to spread globally and within Southeast Asia.
Phay Siphan, chief of the government spokesperson unit, confirmed that COVID-19 is the reason for the Water Festival's cancelation.
As of Aug. 13, the number of confirmed cases in the country stands at 272, with 49 patients currently being treated in hospital.
Khmer New Year, which is another important ceremony, was already a victim of the pandemic, although Cambodians are expected to enjoy time off in lieu throughout much of next week.
The latest cancellation of the Water Festival was in 2015 when the water levels of the Tonle Sap River, where the boat racing takes place, were unusually low. Last year's celebrations faced disruption after former opposition figurehead Sam Rainsy attempted to return to Cambodia, but was ultimately blocked from entering the country by the Cambodian government.
Water festival is one of important traditional events to honor the significance of water for agriculture in Cambodia and to mark the victory of ancient Khmer navy over invading Cham forces.
The festival features the dragon boat racing when hundreds of boats come from across country to compete, floating illuminated, while people eat a flattened rice dish known as Ambok and offer salutations to the moon. People from provinces come to Phnom Penh to witness the festival.
Related Articles