Government "Can't Afford" to Provide Cash to Families in Quarantine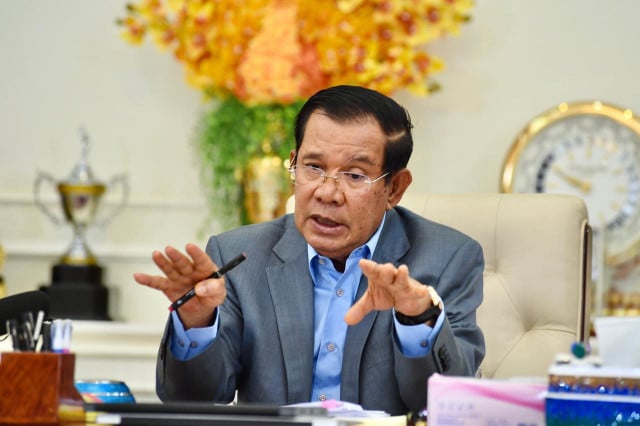 Phoung Vantha
April 21, 2021 4:18 AM
Prime Minister Hun Sen has said the government cannot afford to provide financial support to the tens of thousands of families affected by COVID-19, but instead will give food donations.
PHNOM PENH--Warning that the costs were too much for the government to bear, Prime Minister Hun Sen said on April 20 that he has cancelled the cash donations to the families of those who have contracted COVID-19 or are quarantining.
Instead of the promised 300,000 riel—around $75—families affected by COVID-19 will now receive food instead, according to Hun Sen.
After announcing on April 10 that he would distribute the cash donations to families who need it, Hun Sen has—after just 10 days—reversed his own policy, saying that there are too many people in Phnom Penh and Takhmao City who would be eligible for the financial support.
"Please people, be understanding, I have asked [the government] to divert the support of 300,000 riel and instead provide food such as rice, noodles, fish, fish sauce, soy sauce, and other materials instead, to the extent possible," he said.
Hun Sen suggested that 300,000 riel may not be a large amount of money for the people, it is too much for the government to supply throughout lockdown due to the increased volume of people undergoing quarantine.
"If it was only 10,000 or 20,000 families, it is not difficult, but now we have tens of thousands of families," he said. "If everyone demands money, everyone thinks only of demanding that the state find a solution, but not how to solve it?"
This comes as some 46,000 Cambodians joined a Telegram group to beg for food from Phnom Penh City Hall and the sheer volume of demand appears to have overwhelmed the system in place as messaging is intermittently restricted as hundreds of messages flood the group chat in a matter of minutes.
Hun Sen has also hinted that if the number of COVID-19 cases does not decrease in the coming days, then the lockdowns in Phnom Penh and Takhmao City could be extended beyond April 28, but with 4,835 active cases as of April 20, the measures implemented by the government don't seem to be slowing the spread of infections.
Related Articles