Government Denies Reports of Illegal Logging in Preah Roka despite Evidence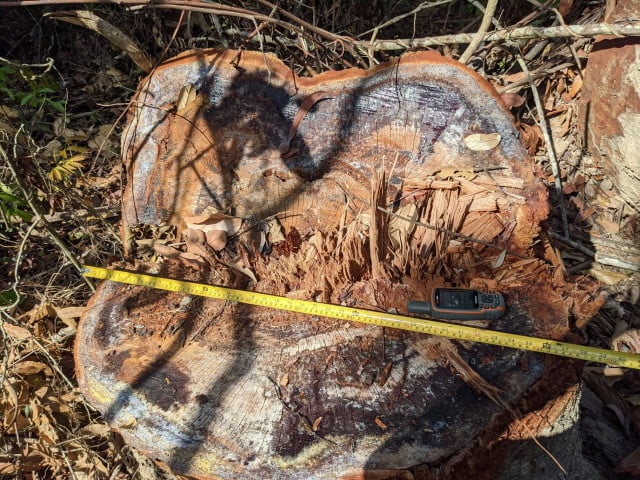 In two months, the Cambodian Youth Network and indigenous Kuy communities in Preah Vihear Province have documented nearly 300 cases of illegal logging, but the government refuses to investigate.
PHNOM PENH--The Cambodian Youth Network (CYN) teamed up with Preah Vihear Province's indigenous Kuy communities to investigate forest crimes in Preah Roka Wildlife Sanctuary—together they found almost 300 cases of criminal activity in just two months.
Concerns are growing over tree cover loss in Preah Roka Wildlife Sanctuary as the Kuy communities found a further 90 sites of illegal logging within the sanctuary's borders. This comes after CYN, working with the Kuy, found 213 illegal logging cases in March 2021.
Preah Vihear Province's indigenous Kuy community said that between May 22 and May 23 they had monitored a 50 kilometer route through the 900 square kilometer protected area and recorded 90 cases of illegal logging.
Most of the trees felled were, according to the Kuy communities, vulnerable with a diameters ranging from 33 centimeters to 158 centimeters—prime wood for illegal loggers.
The Kuy communities said that their findings suggest that forest crime in Cambodia continues unabated, despite Preah Roka being designated a protected area in 2016. This, they said, could be a result of low-quality enforcement and inefficiency on behalf of the authorities.
The Kuy communities called on the government to properly investigate those behind the environmental destruction before it's too late.
"We understand that the lack of investigation to find those involved is also another reason why loggers have access to relentless logging," they said.
San Mala, senior advocacy officer at the CYN, said that before the most recent COVID-19 outbreak his team had always cooperated with the community to patrol and had found many tractors carrying logging. He estimated that at least 10 tractors transported logs out of the protected area each day.
The COVID-19 pandemic, and the assorted restrictions that followed, have created a golden opportunity for loggers to transport timber uninterrupted, he added.
"We noted that forest crimes are being recorded continuously," he said. "There can be more than 10 trucks transporting timber every day."
Mala went on to question whether the Ministry of Environment, who are supposedly responsible for the preservation of Cambodia's protected areas, are incompetent or simply complicit in the wholesale destruction of Preah Roka and other old-growth forests.
"We urge the Ministry of Environment and other relevant authorities to review and reconsider the restriction of freedoms and openness for forest activists, associations, civil society and the public to participate in patrolling, conservation and maintenance of forests in accordance with the provisions of the law," he said.
Spokesperson for the Ministry of Environment Neth Pheaktra said that the ministry is continuing to strengthen the protection and conservation of natural resources by strengthening law enforcement, but he repeated a claim he has often made regarding the role of activists in conservation.
"The situation of natural resources in Cambodia is not as bad as a handful of political activists say, [they] are often coloring and manipulating [facts] with organizing campaigns, which are the business ventures of some civil society organizations, to complete the financing of each project out of fear of donors withdraw money," he claimed.
While Pheaktra was unable to provide evidence to support these claims, he said that civil society often pretends to be the victim.
However, the government's relationship with environmentalists has long been fraught, with activists such as Chut Wutty being killed while attempting to raise awareness of the ecological destruction taking place under the government's watch. The recent jailing of Mother Nature Cambodia activists for planning a one-woman peaceful protest march is just the latest in a string of attacks on civil society members by the government.
Other reliable reports have suggested that the government is not only aware of the large-scale logging operations that threaten Cambodia's forests, but is in fact involved and profiting from them.



Additional reporting by Lay Sopheavotey
Related Articles
December 26, 2021 11:13 AM