Government Denies Requesting Thai Deportations as UN Refugee Agency Condemns Arrest
Rights activists and the UN High Commissioner for Refugees have condemned the "blatant disregard" for international law as two Cambodian activists were deported by Thai authorities and imprisoned in Cambodia
PHNOM PENH--The UN High Commissioner for Refugees (UNHCR) issued a statement on Nov. 12 condemning the Thai government's decision to deport Voeung Samnang and Voeun Veasna, two activists who had been granted refugee status in Thailand due to the political persecution they were expected to face in Cambodia.
"While we are seeking further clarifications on what exactly happened, we are deeply troubled by this deportation," said Indrika Ratwatte, UNHCR's Regional Director for Asia and the Pacific.
"I strongly urge the Thai authorities to investigate this matter. I appeal to Thailand to honor its fundamental international obligations, notably the principle of non-refoulement, and to refrain from such deportations in the future," he added.
The pair were arrested on Nov. 8 and then deported to Cambodia on Nov. 9, but the government has so far rejected the idea that they called upon Thai authorities to detain and deport the two.
National Police spokesman General Chhay Kim Khoeun said that both went to live in Thailand illegally and were deported to Cambodia by Thai authorities. When they arrived in Cambodia, they were arrested and taken to court in accordance with an arrest warrant.
Both were charged with conspiracy to commit treason.
"In the Veasna and Samnang case, the Thai authorities did not send them to us. The Thai authorities deported them because they were staying illegally. It does not mean that they arrested them at our request. We did not request it," he said.
Defense lawyer Sam Sokong who has just received a request from both defendants said that the UN representative to Thailand sought to intervene and prevent their deportation, but noted that Thai authorities seemed in a hurry to deliver the activists to Cambodia.
"The Cambodian and Thai authorities may have been contacted in the deportation of them to Cambodia," he said, adding that he will visit the two in Phnom Penh's notoriously overcrowded Prey Sar Prison, where Veasna and Samnang were jailed on Nov. 10, to further understand the situation.
Samnang was previously dismissed from Bothum Vortheay pagoda in 2013 following his involvement in protests against the ruling party, but was allowed to return after being forced to promise not to involve himself in politics or protests.
The protests, arguably the last major display of civil unrest in Cambodia, were sparked by irregularities in the national elections in July 2013, but Samnang's activism didn't stop there. Instead it led him to seek refuge in Thailand following repeated crackdowns on the Cambodia National Rescue Party (CNRP) which Samnang had vocally supported.
He fled to Thailand in 2020 where he was granted refugee status by UNHCR after being charged with conspiracy and incitement to commit a felony in 2019.
Shortly after Samnang arrived in Thailand, Veasna also fled Cambodia. He went by the name Kranhoung Preylang and wrote poems on Prime Minister Hun Sen's official Facebook page that led Hun Sen to issue a warrant for his arrest in October 2021, but he had already been charged with incitement in May 2021 by the Phnom Penh Municipal Court.
Veasna and Samnang join many other Cambodians who have been deported from Thailand to face charges that many have deemed political.
In 2018, labor rights activist Sam Sokha was arrested in Thailand, despite having applied for refugee status, and was sent back to Cambodia where she was convicted twice and is serving two separate two-year sentences. Besides her CNRP affiliation, Sokha was seen throwing a shoe at a billboard featuring Hun Sen.
In December 2018, Rath Rott Mony was also detained by Thai authorities and returned to Cambodia where he was wanted for his role as a fixer in a Russia Today documentary about sex trafficking in Cambodia. He was released in 2020.
"Thailand's forcible return of these two refugees shows a blatant disregard for fundamental refugee protection principles," said Bill Frelick, refugee and migrants director at Human Rights Watch. "The Thai government's actions make it complicit in the Cambodian government's persecution of its political opponents, which appears to extend beyond Cambodia's borders."
Cambodia is a party to the 1951 Refugee Convention, which prohibits the return of refugees "in any manner whatsoever,"—including extradition. But even while Thailand is not a party to the convention, it is bound by international laws, particularly those related to torture.
"Thailand and Cambodia's leaders appear to have cut a deal that puts the rights of refugees at grave risk," Frelick said. "Refugee protection should never be sacrificed as part of deal-making between governments seeking to harass and pursue political opponents in exile."
Related Articles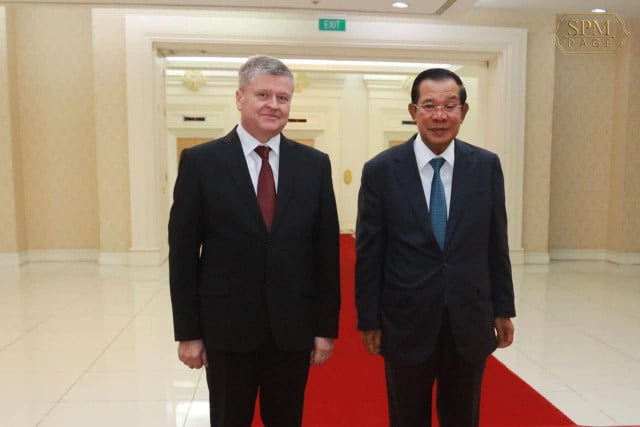 September 24, 2020 10:08 AM