Government Rallies to Deny Intimidation of Human Rights Defender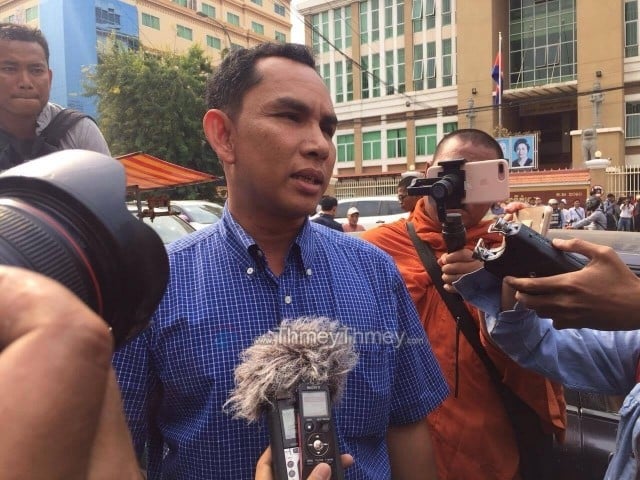 Mao Sopha and Torn Chanritheara
July 29, 2020 11:39 AM
Officials have been quick to deny that human rights defender Am Sam Ath has been intimidated as the United Nations claim, despite Prime Minister Hun Sen's televised threats.
PHNOM PENH--A group of United Nations human rights experts have penned a letter to Cambodian Foreign Minister Prak Sokhonn voicing their concerns related to acts of intimidation against Am Sam Ath, the deputy director of the Cambodian League for the Promotion and Defense of Human Rights (LICADHO).
Officials have rallied around their own to deny intimidation, despite Prime Minister Hun Sen threatening to have Sam Ath arrested during a televised press conference on March 31. Hun Sen was quoted by Khmer Times as saying "[The country] is not yet placed in a state of emergency, but I can have you arrested because you are complicit to illegal acts in Cambodia."
Hun Sen did not elaborate on what illegal acts he suspected Sam Ath had committed, but the human rights defender had appeared on Radio Free Asia two days prior to discuss the climate of fear that had arisen from arrests related to free speech earlier in the year. Numerous arrests were made over "fake news" in relation to the Coronavirus Disease 2019 (COVID-19), including the arrest and interrogation of a 14-year-old girl for messages she sent in a private online group chat.
In joint letter published online on Tuesday (July 28), Rhona Smith, Special Rapporteur on the situation of human rights in Cambodia and three other Special Rapporteurs stated that they were concerned that the public condemnation of and threat to arrest of Sam Ath appear directly linked to his work in the defense of human rights.
This, they warned, is designed to curb the exercise of his right to freedom of expression and his right to defend human rights.
"We are also concerned that such public threats against a human rights defender can have a chilling effect on freedom of expression, freedom of opinion, and space forcivil society and media to publicly report information and conduct awareness raising activities during the ongoing COVID-19 pandemic," the letter added.
The four Special Rapporteurs also mentioned that they do not wish to prejudge the accuracy of these allegations.
In response, the Cambodian mission to UN office in Geneva said there is close cooperation and relationships between National Police and civil society organizations (CSO) with the goal of protecting and respecting human rights. The mission added that any CSO officers who perform their duties in accordance with law, including Sam Ath are accorded with protection against any alleged intimidation.
"However, the authorities requested that the CSO officers file precise information on the alleged intimidation to authorities for an appropriate action," the mission said in responding letter dated 17 July.
Phay Siphan, chief of government spokesperson unit, shrugged off the UN experts' allegations.
"Tell [me] the target [who is threatening him]," Siphan said in a phone interview on Wednesday (July 29) while calling on the experts to work or release accurate information about Cambodia and avoiding saying for the sake of saying or having any political agenda.
Chin Malin, spokesman of Ministry of Justice, also denied such intimidation being made against Sam Ath, saying no one threatens him. Malin, who is also spokesperson of national human rights committee, went on to say that not only Sam Ath but also anyone who works on rights issue and does their job properly and complies with laws, particularly law on association and non-governmental organization, will never receive threat as the authority will only take action against law breaker.
Sam Ath could not be reached for comment on July 29.
Related Articles