Government Plans Additional Assistance for Pregnant Garment Workers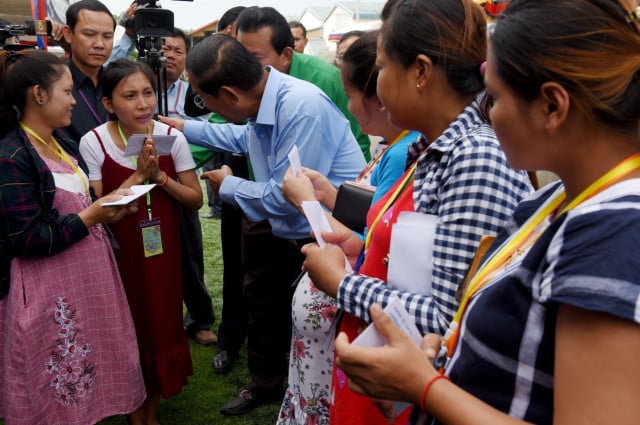 PHNOM PENH – Female garment workers will receive additional cash assistance from the government to cover expenses during their pregnancy and their life as young mothers until the newborns turn 2 years old.
Speaking at the inauguration ceremony of a tire factory on May 22 in Preah Sihanouk province's Special Economic Zone, Prime Minister Hun Sen announced that pregnant garment workers who benefit from the National Social Security Fund (NSSF) will now receive money when doing pregnancy health check-ups, in addition to not pay anything, as it is the case since 2018.
While he didn't further elaborate on how much this new financial support package would be for young mothers, he stressed that he would discuss the matter with the Minister of Economy and Finance Aun Pornmoniroth to define and budget the plan.
Beneficiaries will receive cash relief packages at the hospital when doing an ultrasound checkup during the pregnancy or a baby checkup after childbirth, Hun Sen said.
This new policy will be applied to all female garment workers in the formal economy and will be managed by the Ministry of Labour and Vocational Training.
According to the prime minister's statement, there are currently 443 pregnant women in garment factories across the country.
The Ministry of Labour and Vocational Training will be working with the Ministry of Social Affairs, Veterans and Youth Rehabilitation to implement the policy immediately, starting from the announcement date onward.
Pregnant workers or workers with babies under 2 years old will have to apply to request access to the financial support scheme, which will come as an add-on to the existing national social security fund they are holding.
The new scheme will proceed until their babies turn two years old.
Since 2018, every female garment worker receives a 90-day maternity leave with a financial allowance of 120 percent of their usual salary – 70 percent comes from the NSSF and 50 percent from the employer.
Also, the mothers who hold the NSSF card receive 400,000 riel ($100) for the birth of one baby or 800,000 riel ($200) for twins. Mothers of triplets receive 1,200,000 riel ($300) from the NSSF, and 5 million riel (around $1,200) from the prime minister's own money.
Since the beginning of the scheme in 2018, there have been 24 sets of triplets in Cambodia.
In 2022, NSSF provided maternity leave support to 55,770 women workers in the formal and informal economy, for a total of 56,173 children, according to data from NSSF's annual report issued on Jan. 26, 2023.
The total cost for maternity support was 22.5 billion riel (about $5.6 million) in 2022.
The previous policy has been implemented for workers in the informal economy and farmers who hold Post-ID. The policy is divided into three phases. In the first phase, a package of 40,000 riel ($10) is given every time they have an ultrasound checkup, four times before childbirth.
In the second phase, the workers receive 200,000 riel ($50), once, during childbirth. In the third phase, the workers get another 40,000 riel ($10) every time the baby gets vaccinated or has a healthcare checkup, 10 times until they turn 2 years old.
Related Articles