Governor Won't Intervene in Grand Phnom Penh Borey Dispute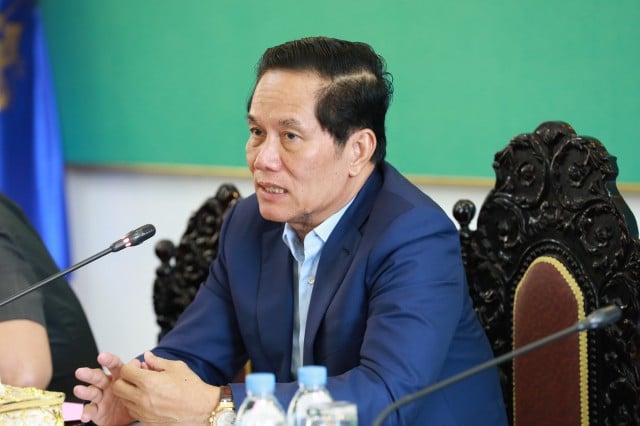 Ou Sokmean and Phoung Vantha
September 29, 2020 12:08 PM
Following complaints from the residents of Grand Phnom Penh Borey, Governor Khoung Sreng said he cannot stop Chip Mong from filling in the borey's pond.
PHNOM PENH--Chip Mong's plan to fill a 10-hectare pond in Grand Phnom Penh in Sen Sok District is private property and City Hall has no right to intervene, according to the city's governor.
Responding to the representatives of 140 families who are protesting against Chip Mong's decision to fill a 10-hectare pond in Grand Phnom Penh Borey, Phnom Penh governor Khuong Sreng said that his administration does not have a sufficient legal basis to intervene. Therefore, he said he could not prevent the filling in of the pond.
Sreng said that if the Phnom Penh administration intervenes to save the pond, it will be a violation of Article 85 and Article 88 of Land Law.
The 140 residents of the borey have been protesting since the weekend, arguing that the pond was part of what drew them to the luxury gated community. Local media reported armed security forces being deployed to intimidate the residents.
According to the relevant documents, the pond belongs to tycoon Leang Khun and tycoon Leang Meng, who bought it from YLP Group last year, City Hall added.
Chip Mong Land could not be reached on the morning of Sept. 29, but according to local media, Chip Mong confirmed that the company still intends to develop the pond, despite some residents' protests.
The company plans to transform the pond into a mixed green park with lots of trees, a gym, a children's play area, called "Central Park."
The ongoing dispute has drawn the ire of social media users in Cambodia who pointed out that land disputes have been an ongoing problem throughout the country, but now they are finally affecting even the richest members of society.
Related Articles