Green development, livelihoods enhanced for rural Cambodians by LMC-funded project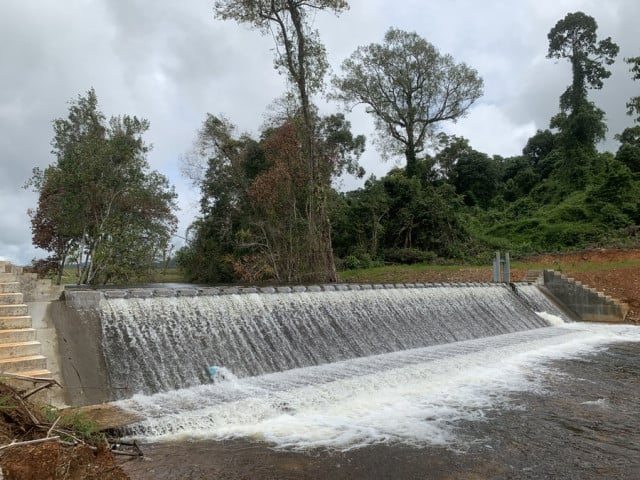 KOH KONG, Cambodia, June 20 (Xinhua) -- A 68-year-old Cambodian farmer, Sok Chan, is elated to see a water resource protection project launched in his rural community.
He is confident the Lancang-Mekong Cooperation (LMC)-funded water resource protection project will bring green development and better livelihoods to local residents.
Regarded as a demonstration project for integrated management of typical small river basins, the project was carried out in Russei Chrum commune of Thma Bang district, roughly 72 km from Koh Kong provincial town.
Under the project, a concrete bridge and an overflow dam over the Kayang river, along with a fruit tree irrigation system, were constructed, and a reverse osmosis drinking water treatment system was installed at the Kokichrum Primary School.
It was undertaken by the Changjiang River Scientific Research Institute of Changjiang Water Resources Commission under China's Ministry of Water Resources, and constructed by Cambodian Tatay Hydropower Ltd.
"When there was no bridge, overflow dam and small river basins, our villagers had faced many challenges, particularly farmers. They faced a shortage of water for irrigating their crops, so their crop yields were also low," Chan told Xinhua after attending the inauguration ceremony of the project's achievements on Sunday.
"Now, we're very happy that typical small river basins, the bridge and the overflow dam are put into use," the father of five children said. "This project will provide significant benefits to our people and I believe that, from now on, we will no longer face a shortage of water."
Moeun En, a 36-year-old farmer in Russei Chrum commune, is confident that the project will help improve the livelihoods of local people in a sustainable way.
"We hope our livelihoods will be improved, not be difficult like before, after this project is carried out," the mother of four children told Xinhua.
"I hope it will help control and protect water resources, and I'd like to thank China for supporting our village's development," she said.
Thma Bang district governor Tuot Hatima said the project is crucial to improving people's livelihoods, restoring the local ecology and environment, and preventing natural disasters, noting that more than 1,300 families will be benefiting from it.
"The project will provide a lot of benefits to local people, providing them water for irrigating their crops, and the bridge will facilitate the transportation of agricultural produce," she told Xinhua.
Xu Ping, chief engineer of the Changjiang River Scientific Research Institute, said the project was one of many projects implemented in Cambodia under the LMC Special Fund for 2022.
"Water resources play an important role in ensuring food security, water supply security, ecological security, and energy security, supporting sustainable socioeconomic development and serving people's livelihood and wellbeing," he said.
Xu said the project will enhance drinking water safety, ensure water supply in the dry season and promote green development in this rural area.
"From now on, teachers and students at the Kokichrum Primary School have access to safe drinking water, while farmers enjoy a stable water supply for their crops in the dry season," he said. "I believe that the project will not only directly benefit local people, but also contribute to promoting economic development."
China initiated the LMC Special Fund in 2016 with the aim of supporting small and medium-sized cooperation projects put forward by the six Lancang-Mekong countries, namely China, Cambodia, Laos, Myanmar, Vietnam and Thailand.
Related Articles