Green Space Needed to Tackle Urban Heat: Expert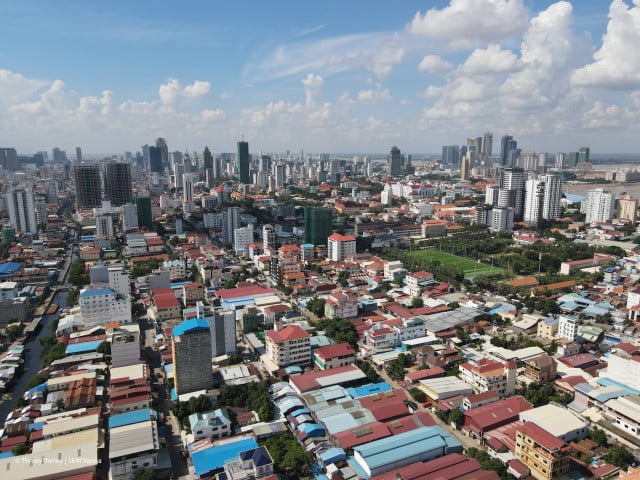 September 16, 2021 4:29 PM
Phnom Penh study highlights city hotspots
PHNOM PENH -- Experts have called for greater attention to the urban heat phenomenon in Phnom Penh as rapid urbanization has seen rapid changes with shrinking green space.
Development has brought about significant population growth in urban areas along with more high-rise buildings and concrete pavements. These have raised temperatures in what are known as urban heat islands, according to a recent study.
The "Impacts of Urbanization on Urban Heat Island (UHI) in Phnom Penh" study was conducted by Se Bunleng, a research fellow at the Center for Khmer Studies and lecturer at the Royal University of Phnom Penh.
It says the phenomenon takes place due to accelerated urbanization, which involves notable growth in the urban population, economic activities and changes in the urban landscape and land use.
The study was based on an analysis of data over eight months between 2020 and 2021 by observing factors such as air temperature, humidity, wind speed, solar radiation, precipitation and atmospheric pressure.
Key findings were differences in temperatures and urban heat island intensity between urban and sub-urban areas in Phnom Penh. An area like Boeng Keng Kang has seen greater urban heat intensity, up to 1.3 degrees Celsius higher than that of the sub-urban areas of Po Senchey district.
"When more urbanizations happen in the city, it increases air temperature. It is because the land use also changes in Phnom Penh," Bunleng said during a public lecture organized by the Center for Khmer Studies in early September. "There are more buildings emerging, and these absorb more heat."
He said urbanization also potentially decreases relative humidity due to impervious surfaces that prevent infiltration and evaporation.
In addition to humidity reduction and increasing air temperature, the emergence of new buildings and other construction also affects ventilation.
The study notes the growth of Phnom Penh's population from 1.85 million in 2012 to 2.129 million in 2019 while urban areas have expanded from 25,000 hectares in 2015 to 678.46 square kilometers in 2019, according to the Phnom Penh city plan 2018-2030.
The research points to the increasing presence of transport hubs, business centers and industrial complexes —all of which contribute to warming.
However, Bunleng recognized a limitation in his research as it only installed three weather stations in urban and sub-urban areas to collect data. But he recommended that more attention should be given to this issue and further research should be conducted to make the impacts clearer and pave the way for better solutions.


The United Nations' Intergovernmental Panel for Climate Change (IPCC) report released on August 16 also said many cities and urban centers across the globe have experienced warming.
It said these effects have been exacerbated by significant factors such as urban geometry, human activities and materials that make up cities.
"The urban heat island effect is further amplified in cities that lack vegetation and water bodies," the report added.
Professor Lutz Katzschner, project leader on urban climate at the Build4People organization, agreed that rapid urban development can lead to growing urban heat island problems and this needs more attention from stakeholders.
"All urban planning developments have to consider how intense the impacts of urbanization on urban climate are," Katzschner said.
Climate crisis makes urban heat more severe
Cambodia is known as one of the countries most vulnerable to the climate crisis, having seen a dramatic rise in extreme climate events over the past years, including heatwaves and flooding.
Katzschner warned that with increasing climate change impacts, it becomes more critical than ever for policymakers to seek more practical solutions to the island heat problem.
"Urban development will increase urban heat islands, especially if more densification is taking place. Together with that, the global climate change effect makes the situation more serious," ​he said.
Climate change changes the duration of extreme events.​ "This is for flooding as well as for dry periods. On top of that comes the densification of the city, which increases heat storage and water runoff."
If this heat problem, which can be exacerbated by the climate crisis, is not properly tackled, in Phnom Penh in particular, there will be more severe health effects, including urban pollution.
"If creating air paths to reduce heat stress does not happen, we can expect more serious health problems and air pollution will increase," Katzschner said.
As the climate crisis can lead to higher temperatures with longer and harsher heatwaves, urbanized areas which have already been suffering from the heat island issue will likely see more acute heat stress.
With this condition, according to the World Health Organization, several health impacts can happen, varying depending on different circumstances. And people exposed to extreme heat can suffer heat exhaustion and heatstroke. People with compromised health, low incomes and children are among those most vulnerable to this issue.
Urban planning needs adjustments to deal with urban heat impacts
Like many other cities, Phnom Penh will continue to see speedy urbanization due to economic development in years to come. Therefore, it requires policymakers to seek specific solutions to tackle the impact of development.
By taking climate change impacts into account, Katzschner said authorities may need to focus on developing a climate map to help urban planning.
"First of all, Phnom Penh needs an urban climate map to show the hotspots and give climate-oriented recommendations," he said.
"Within the Build4People project, we work on that and will have this ready within one year. With that instrument, an exchange with urban planning, authorities' mitigation strategies can be developed."
Tang Sochet Vitou, a professor of architecture at the Royal University of Fine Arts, said Phnom Penh needs just a simple solution, more public parks with more trees and cooling systems.
"Many cities all over the world undergo the same pattern, and Phnom Penh is not exempt from this. What we need is to pay attention to creating public parks which not only serve people but also animals and birds," Vitou said.
However, he recognized that many lakes and public areas are being transformed into new construction as real estate developers don't think of maintaining green spaces properly.
"In our city, the most difficult problem is the growing number of gated community or borey projects. It is hard to create green spaces or parks as many lakes have been filled in for these borey projects," he said.
"Another problem is that boreys or real estate developers are given too much decision power when it comes to developing or making use of their own lands."
He said landfilled areas that have been transformed into boreys can't be rehabilitated because it is too costly for the state to buy back and would take a long time.
"But it is critical that we can think of protecting the remaining lakes and ensure that those spaces are rehabilitated to a better condition in the future," he said.
Vitou suggested that policymakers design rules and regulations for real estate developers, particularly borey project owners, guaranteeing that public parks and green spaces are conserved.
"Speaking of policy frameworks, it must be more specific. It needs to be specific about landscape use for project developers for the sake of people's wellness," he said.
The policy should offer guidelines on the percentage of the land to be kept for parks. This would prevent developers from doing whatever they want with the land, especially landfilling, dividing the land into plots and reselling it.
"This should be compulsory for them so that they will follow these standards. The developers can ensure that there are community parks with trees, gardens and lakes," he added.
Vitou said this not only provides natural spaces for people's health but these areas play a critical role in emergencies or public health crises like COVID-19.
"This is about sustainability, safety, and health," he said.
Katzschner agreed that to deal with heat stress, integration of more climate-related guidelines into urban development planning was needed while more green spaces should also be created in Phnom Penh.
"I think guidelines are needed, especially on how to implement urban climate issues into the regular planning process. This is for land-use changes as well for building constructions," he said.
"Moreover, Phnom Penh should plan even more green spaces as they can reduce the nocturnal heat load and give shade at day time."
Related Articles