Greetings to the Press: Journalists Allowed to Question Hun Sen for the First Time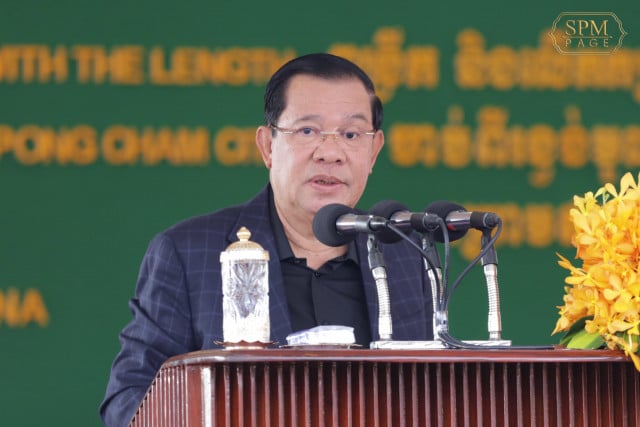 PHNOM PENH – Journalists will be allowed to ask questions to Prime Minister Hun Sen on Jan. 14 during a press conference for the New Year's greetings to the press.
It will be the first time that journalists will have the opportunity to ask him questions on this specific occasion, while the New Year's meeting with representatives of the media has become a tradition over the years.
This novelty comes after a two-year hiatus, due to the COVID-19 pandemic.
"I will allow journalists to ask me [questions] after my speech at the press conference to have a face-to-face discussion on some issues," Hun Sen said on Jan. 9 at the inauguration of the upgrade of National Road 7 in Kampong Cham province.
The press conference will also mark Hun Sen's 38th anniversary of his accession to the post of prime minister.
PM Hun Sen started to lead top government positions in 1979 when he was appointed as Minister of Foreign Affairs, at the age of 26. He then rose to the premiership in January 1985 after the one-party National Assembly appointed him to succeed former Prime Minister Chan Sy, who died in office in December 1984.
During his multiple mandates, Hun Sen has been through several political regimes: The People's Republic of Kampuchea (1979-1989), the State of Cambodia (1989-1991), the UNTAC period (1992), and the restoration of the monarchy in the current parliamentary system (1993-present).
He nevertheless went through political hard times. The royalist political party FUNCINPEC won the 1993 general elections against Hun Sen's Cambodia People's Party. A power-sharing agreement was agreed upon between Norodom Ranariddh and Hun Sen to be co-Prime Ministers, in an attempt not to plunge the country into civil war again.
More recently, the Cambodian National Rescue Party was dissolved in November 2017, after it had become a political threat to the CPP's supremacy.
With 38 years of power under his belt, Hun Sen has become the world's longest-serving head of government.
He often says he will continue to run for the next election until he turns 90 – he's currently 71.
His eldest son Hun Manet was appointed in December 2021 as the CPP's next candidate for prime minister.


Originally written in Khmer for ThmeyThmey, this story was translated by Meng Seavmey for Cambodianess.
Related Articles