Half a million landed homes by 2030: VTrust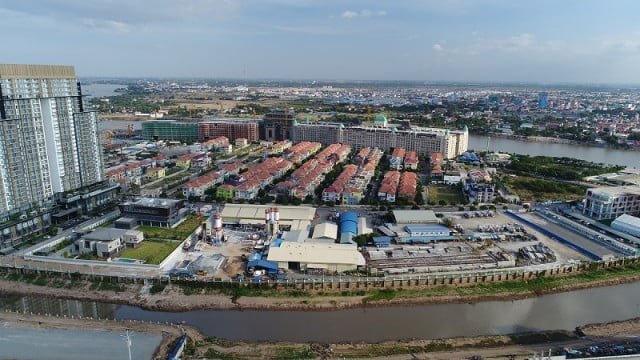 Thmey Thmey
September 9, 2019 8:19 AM
The number of landed houses in Phnom Penh will reach nearly half a million by 2030, according to a recent report from VTrust Appraisal.

The document, titled Phnom Penh 2030, showed that landed homes will increase threefold over the next 13 years. The valuation company claims the total currently stands at 150,000 but will hit 450,000 by 2030.
VTrust's report anticipates an average of 25,000 new landed units to hit the market each year and an overall growth rate of 9 percent in the housing supply.
VTrust Appraisal's research director, Hoem Seiha, who authored the report said that Phnom Penh has witnessed a 4 percent population growth year on year as more people seek opportunities in the city.
"Rapid growth of population in the city and an increasing influx of new incoming migrants who come from different parts of the country to settle down in the city will drive more demand for houses in Phnom Penh," Seiha said.
"The flexible mortgage schemes for housing sector has come to boost the affordability of city population and thus will continue to drive the housing forward."
Dangkor, Chroy Changvar expected to grow
Currently, there are seven districts in the capital with active landed housing developments. These include Por Sen Chey, Dangkor, Chroy Changvar, Russey Keo, Sen Sok, Chbar Ampov and Meachey districts.
Of these districts, Por Sen Chey currently has the largest supply with nearly 50,000 landed homes. Sen Sok and Dangkor districts each have just over 20,000. However, VTrust's report predicts massive growth in Dangkor district. The forecast claims there will be almost 100,000 homes there by 2030.
It should be noted that the numbers in the report include landed houses only if they are part of a community with 20 or more units. Boreys fall squarely into this category.
Concerns over affordable housing
Nget Chou, a local financial and real estate adviser, said that the growing demand for property ownership has pushed up property values over the past few years. Chou claimed that land prices were currently growing by between 10 and 100 percent per year, depending on location.
However, he said there are worries in the affordable segment of the market.
"Cambodia may face the housing crisis in the future especially among many low-income people," he said.
"The current affordable housing supply in Cambodia does not meet the living standards of a worker, as a house costs at least $25,000. This crisis has already happened in Hong Kong, so Cambodia should learn and prepare."
In terms of land price alone, Chou said that rates in Cambodia are still low compared to the rest of the region.
According to Chou, the average value of urban land in Cambodia is around $2,900 per square metre. In Thailand, meanwhile, it sits at $3,900, $11,800 in China, $13,700 in Singapore, and $28,500 in Hong Kong.​
Source: Realestate News
Related Articles